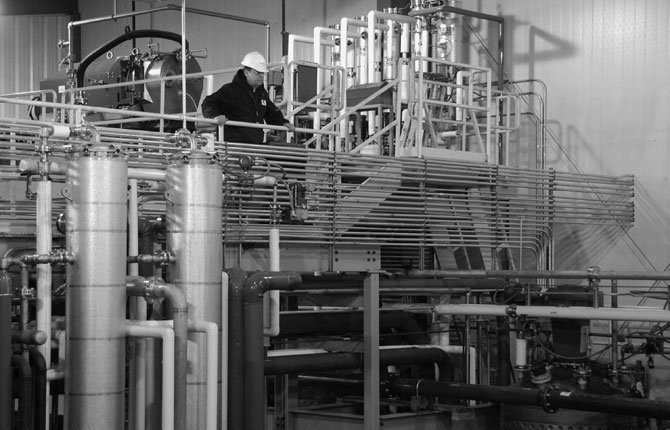 Scottsbluff Arizona Star-Herald, April 26:
A few weeks ago we reported on progress in developing cellulosic ethanol, after reading about biofuels distilleries in Iowa and Kansas that would utilize ag waste products, such as stalks and husks, instead of corn. Making ethanol from those sources would help to tamp down complaints about increasing corn demand raising the price of food.
Now comes a report that using corn crop residue to make ethanol and other biofuels reduces soil carbon and can generate more greenhouse gases than gasoline, according to a University of Nebraska-Lincoln research team. The U.S. Department of Energy has provided more than $1 billion in federal funds to support research to develop biofuels. This research reveals a setback.
Using a supercomputer model, Assistant Professor Adam Liska and other researchers estimated the effect of corn residue removal on 128 million acres across 12 states. Liska's study, funded by the Department of Energy, used carbon dioxide measurements taken from 2001 to 2010 to validate a soil carbon model that was built using data from 36 field studies. It found that the process of removing corn wastes, known as stover, requires energy expenditure and generates carbon emissions without creating enough new energy to make it worthwhile. Additionally, because plants use carbon dioxide, they play an important role in reducing atmospheric carbon, protecting fields against erosion and preserving soil quality. Clearing fields of plant wastes reduces the amount of carbon stored in soil. The effect, then, is akin to borrowing money and expecting to put it into a bank account and live off the interest. The environmental cost isn't worth the payoff.
The news isn't all bad. It also pointed out some alternative strategies. To mitigate increased carbon dioxide emissions and reduced soil carbon, the study suggests planting cover crops to fix more carbon in the soil.
Cellulosic ethanol producers also could turn to alternative feedstocks, such as perennial grasses or wood residue, researchers said. Electricity from biofuel production facilities could offset more harmful emissions from coal-fueled power plants. Another alternative is to develop more fuel-efficient automobiles and significantly reduce the nation's demand for fuel, as required by the 2012 federal vehicle standards.
"If this research is accurate, and nearly all evidence suggests so, then it should be known sooner rather than later, as it will be shown by others to be true regardless," Liska said. "Many others have come close recently to accurately quantifying this emission."
The report doesn't necessarily mean that it's time to give up on seeking higher economic return for farmers. Other ag research seeks ways to get the most from a corn plant, including turning corn stover into feed pellets for livestock.
Much of the research that benefits farm country is funded through the U.S. Department of Agriculture, which reported recently on some of its recent research successes.
USDA reports receiving 51 patents, filing 147 patent applications, and disclosing 180 new inventions in the last fiscal year. Projects include flour made from chardonnay grape seeds that prevents weight gain to antimicrobial packets that keep food from spoiling, efforts to protect U.S. troops in Iraq from diseases carried by sand flies and new processes for turning yard waste into bioenergy.
USDA projects helped develop frozen orange juice concentrate, permanent press cotton, mass production of penicillin during World War II, tougher turf grasses used on sports fields and improved varieties of many crops. Recent innovations detailed in the report will help dairy farmers reduce greenhouse emissions, extract zinc fertilizer from old tires, detect West Nile virus in blood samples, make "greener" window cleaners and safely prevent produce from rotting on grocery shelves.
Science progresses incrementally. Without continued research, we wouldn't have data that industry turns into commercial applications that help the economy grow. Thanks to such innovations, for instance, the price of solar panels has fallen more than 75 percent since 2008.
Occasionally, experiments reveal dead ends. But more often they simply turn research in new directions.