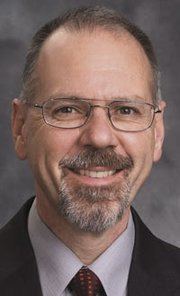 Rep. John Huffman, R-The Dalles, believes one of his greatest accomplishments during seven years in office was reworking a state radio project to save about $450 million in taxpayer funds.
His quest to cut costs and still provide Oregonians with essential services has led Huffman, 57, to seek re-election to the District 59 seat that he has held since 2007.
"I view the people of this district as my bosses and I represent all of them, not just the ones from my own political party," he said. "I have truly tried to put the "represent' in 'representative.'"
He is being challenged in the May 20 primary election by Britt Storkson, 59, of The Dalles. Because there is no Democrat in the race, the winner of the primary will have his name singly listed on the November ballot.
Huffman became involved in the Wireless Interoperability Network plan after state officials determined in 2010 that it was unaffordable to install 300 new broadcasting towers across Oregon.
He was then serving on the Joint Audits Committee and tasked, as the only legislator with experience in the field of communications, to find a way to salvage the project. The state was seeking to meet a federal mandate to provide emergency responders from varied agencies with a better way to exchange information.
Lack of interoperability became a major concern after rescue workers had trouble keeping in contact with each other following the 9/11 terrorist attacks in New York. The problem that firefighters and law enforcement officers encountered during the crisis was that agencies used different radio frequencies and communication equipment.
Oregon sought to overcome that challenge by establishing a 100 percent cohesive network but the cost, at about $650 million, was too expensive.
With $35 million already invested, Huffman was asked to study the situation. He brought 22 years as the owner of a radio station to the challenge of preventing the project from becoming yet another example of a government expenditure gone awry.
"Nobody in their right mind could support a project that cost that kind of money," he said.
His mission included several meetings with Oregon Department of Transportation officials to brainstorm for a solution.
"I told ODOT officials that we couldn't afford 100 percent interoperability so we needed to figure out an alternative," he said. "We developed a plan for a little over $200 million that covered 80 percent of the state by piggybacking as much as possible on existing towers owned by counties, sheriff's offices and cellular companies."
He said revising the plan was complicated and time-consuming but the end result has been positive. He said the network will be up and running in all but the most remote locations by June and improvements can be made in those areas as money allows.
"I never have had an agenda or an axe to grind," said Huffman. "My approach to the job is good governance and advocating for my district and constituents."
In the 2014 session, Huffman was vice-chair of the Higher Education and Workforce Development Committee, and seated on Ways and Means, which sets the budget. He was also the longest serving member on the Education Committee, and also seated on Veterans' Services, Emergency Preparedness, Capital Construction and the Oregon State Capital Foundation.
Huffman said some people think that a state legislator is paid the same as a federal official – who makes about $180,000 per year — but the "part-time" job of representing Oregonians actually pays $1,850 per month. In addition, there is a $650 per month travel allowance and, during the legislative session and quarterly meetings in Salem, an additional $130 per day to cover travel, food and housing.
"You have to do this job full-time to do it right and I average about 3,000 miles per month traveling through the district to meet with constituents, go to meetings and speak at events," he said.
Huffman said the ability to make a difference for people is what keeps him on the road – and on the phone for many hours each week.
He is proud to have supported bills that created private sector jobs, reduced unnecessary regulations, funded education, protected seniors and disabled citizens from domestic violence and children from sexual abuse.