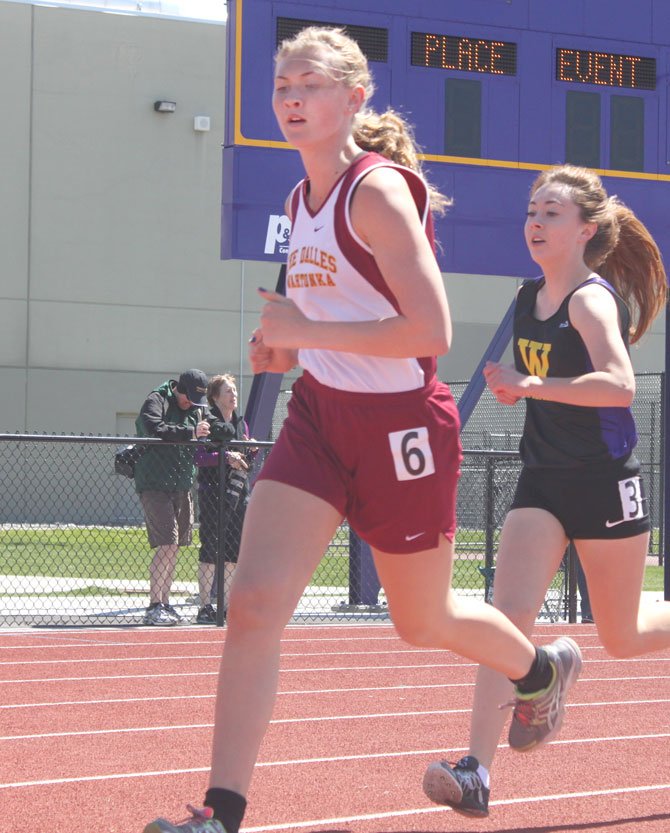 Facing high winds and gloomy skies, The Dalles track and field team set a handful of personal records and season-best marks versus some solid competition at the 26th annual Kiwanis Invitational at Kennison Field in Hermiston.
"Our kids competed well and still ran some PRs in spite of the conditions," said Tribe coach Garth Miller. "The wind is tough. It is hard to win close to your best in gusting winds. It takes a lot of energy out of you. I am proud of the kids for sticking with it."
For the boy's team, Harris Farr notched third place in the high jump with a 21-feet-9.5 inches, just a half an inch off a record.
Zach Nerdin leapt to a height of 6-feet in the high jump to tie his season best to wrap up fourth place, and the senior added a personal record time of 16.13 in the 100-meter hurdles.
Lio Tunai was second place in the shotput, where he had a season's best throw of 53-5.75 and he had a 128-7 for sixth in discus.
Riley Bardes just missed podium at discus, where he tossed a 113-0 for 12th place. In the shotput, the junior, threw a season's best 42-3 for ninth place.
Elijah Kohltfarber ran season's best in the 1,500 with a final tally of 4:34.84.
Sant Strassheim set a personal record in the 100 with a time of 11.82 seconds, and he added a sixth-place marker of 43.31 in the 300-meter hurdles for another personal record.
Staked to those outputs, the Tribe tallied 30.5 points for 10th place amongst the 15-team grouping.
Rocky Mountain won the event with 144 points, nearly doubling Kamiakin, Wash. (77).
Richland, Wash. (74), Wenatchee, Wash. (64), Lakeridge (59.5) rounded out the top-5.
Of the other Columbia River Conference schools, Hermiston had 56.5 points for sixth place and Pendleton had 48 for eighth.
The Kamiakin girls made quick work of the 14-team girl's field with 169 points for the team title.
Southridge (82), Moses Lake, Wash. (81), Rocky Mountain (78) and Lakeridge (77) capped the best five in the standings.
Hermiston placed seventh with 48 points, Pendleton (22) was eighth and The Dalles (17) ended up ninth.
Leading the Eagle Indian girls was Katie Conklin, who set personal records in the triple jump and 100-meter hurdles.
In her jump, she grabbed third-place recognition with a distance of 35-3.75.
The junior is currently ranked fourth in the 5A class with her jumps.
Conklin, who is ranked ninth in the state in the 100-meter hurdles, crossed the tape in a record 16.47, the second time she had been in the 16s this season.
Yasmin Hill had a PR in the 200-meters with a time of 28.73, and she equaled her best in the pole vault with a 9-foot mark, a personal-best, moving her to sixth place.
Maddie Wood set a personal-best of 11:36.34 in the 3,000-meters. She also had a high jump height of 4-8 that put her in 12th place.
Emily Morin had a PR in the 800-meters at 2:44.18, and she kept close to her best in the 1,500 at 5:29.30.
Emily Bailey carded a fifth of 61.56 in the 400-meters, which was a tenth of a second off her best.
Avery Cardosi added a 14-7.5 for a personal record in the long jump, and Caela Dunagan clocked in at 5:57.47 in the 1,500.
TD was in Hood River today for a CRC dual.