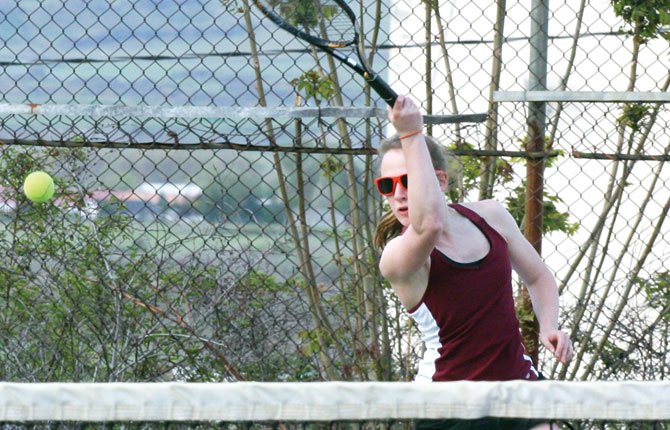 With a chance to mix up rosters for a non-league match Monday versus Sherman, The Dalles girl's tennis coach Debby Jones saw Johanna Wilson snare a singles win and the Tribe duo of Brittany Watkins and Rebekah Kohltfarber added a lopsided win in what turned into a 2-2 draw at The Dalles High School.
Although normally on a doubles team with Kiana Pielli, Wilson had a chance to spread her wings on the singles slate opposite Sherman's top player, Meghan Belshe.
Wilson fell behind 3-0 early in her match, but restored order and wound up taking an 8-5 victory in their pro-set tussle.
"She turned it around and made important adjustments to her own serve and pulled off the match," said coach Jones.
The tandem of Watkins and Kohltfarber rattled off a 6-0, 6-2 win over the Husky team of Katherine Shafer and Addy Bates for the Tribe's other winning end product.
Sherman got on the board at No. 2 singles, as Karolyn Kaseberg hit the court against Pielli.
The Husky standout had enough arsenal in her repertoire to garner scores of 6-3 and 6-3 to post the win.
Jones said this non-league match was a good opportunity for Wilson and Pielli to play some singles and improve their overall tennis skills.

"I think both girls were a little nervous when they started off, but settled in," Jones said. "Kiana played her first singles match of the year and I saw a lot of positives. I know she wanted the win, but hopefully she will be able to see the experience as a growing opportunity. Kiana's tennis career is just getting started and I am very excited and optimistic of her future."
Hollee Kaseberg and Elvia Rubio motored home for a close victory over Emma Ell-Smith and Abby Minnick, where every bounce was critical.
Kaseberg and Rubio got things started with a 7-5 margin, and completed the sweep with a 7-6 triumph.
"The girls definitely had chances to win, but the Sherman tandem kept coming back and earned the win," Jones said.

With weather wreaking havoc on continuity, the Eagle Indian coach just wanted her young players to get some match time to work out the kinks.
TD travels to Hood River for a league match at 4 p.m. Wednesday, and then hits the road to bend for tourney action starting Friday.
"These match opportunities will provide a good measuring stick to where we really stand as we prepare for the district tournament," Jones said.