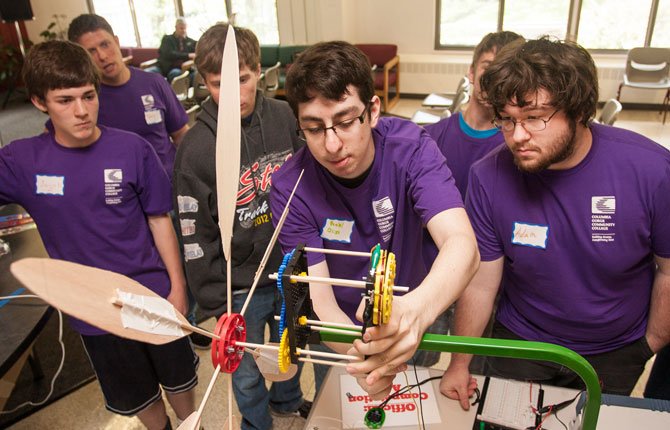 About 20 teams consisting of middle and high school students from around the Columbia gorge region will be putting their technology skills to the test as well as competing for a chance to win one of several educational prizes at this year's Wind Challenge, taking place from 9 a.m. to 5 p.m. on May 3 at The Dalles Civic Auditorium.
Sponsored by Google and in collaboration with the Columbia Gorge Community College Renewable Energy Technology program, Wind Challenge is a competitive event which requires students to work together in teams to effectively solve problems and design a functioning turbine.
Each team consists of three to six students and is assigned one CGCC student involved in the Renewable Energy Technology program at the college.
"The RET student's role is to help teams go through the design and building process in the first half of the competition,"said Michal Kawka, career and technical education advisor at CGCC and Wind Challenge coordinator.
"They also can assist in providing students with the needed scientific and/or technical explanations. The point is to challenge students to think of solutions and help them with problems they encounter along the way, as well as provide an opportunity for students to collaborate and learn from one another."
Teams will receive all the tools, materials and instructions necessary to build the turbines and the competition lies in the students' ability to put together the most effective machine they can in the least amount of time possible.
"It's a great way to get students involved in science and engineering," Kawka said.
"And it's especially interesting since the event engages students from around the gorge, where this type of renewable energy technology is prevalent. At Wind Challenge, they get to work in collaboratives and learn more about the turbines they see around the gorge."
Students hailing from The Dalles, Hood River, White Salmon, Klickitat County, Dufur and South Wasco counties are included in the event's prospective attendees, although there will also be representatives from the renewable energy industry, CGCC and Google will be present.
"What we really look for are students who are interested and enthusiastic about it already, and we intend to build up that enthusiasm with the help of the mentors who will be present as well as adding a layer of competition on top of that," Kawka said.
The second part of the day will be dedicated to the judging of the student-made turbines.
"It will really come down to efficiency and effectiveness," Kawka said. "We want to see evidence of intentional thought put into every design."
Which team is able to build a turbine the fastest, how capable a turbine is of pulling weight as well as its capacity to generate electricity are all factors that will contribute to each team's overall score. Judges will also interview teams in order to evaluate students' understanding of the design process.
Judges, Kawka said, will be industry partners with the college or individuals who work in fields relating to energy, such as Bonneville Power Association, the CGCC RET program and college faculty members— all of whom will play a role in assessing the students' turbines.
Google representative Rebecca Ball also said that during the entire event, community members will be encouraged to get involved as well.
"Students and parents and siblings are welcome to come support teams during the judging portion," she said.
"While teams are building the turbines, we'll have a mini STEM fair going on to reach out to community partners throughout the region, such as OMSI and CGCC. There's definitely going to be a buzz to it."
The event will also boast food vendors and a multitude of STEM booths to visit, concluding with an award ceremony for student participants. Potential prizes include a sponsored trip for a class of 33 students plus chaperones to OMSI, a sponsored trip to an area wind farm, as well as electronics and turbine kits for classroom use to further educate students about renewable energy technology.
For more information about the event, contact Kawka at 541 506-6022.