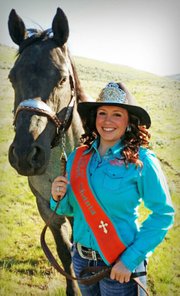 The Arlington Jackpot Rodeo kicks off its 67th year May 10 and 11.
Events will begin Saturday, May 10, with the parade through downtown Arlington at 10 a.m. and the Queen's luncheon
immediately following
the parade at the United Methodist Church Hall, 150 Hemlock St.
Rodeo action begins at 12:30 p.m. both Saturday and Sunday. A cowboy breakfast will be served Sunday at the Masonic Hall from 7 to 10 a.m.
Arena action will feature the traditional rodeo events, including bull
riding and ranch bronc riding. There will be added money each day, except for specialty events. The specialty events will be mutton bustin', junior and pee wee barrel racing and a calf scramble.
The twelfth annual Kevin Johnson Memorial buckle will be awarded to the All-Around cowboy or cowgirl. The cook shack will be serving food both days.
Ticket prices are $6 for adults and $4 for children 12 and under. A two-day pass is available for $9 for adults and $6 for children 12 and under.

Reigning as the Arlington Saddle Club Queen this year is 18-year-old Shania Drinkwine of
Condon. She is the daughter of Dave and Sally Drinkwine. She is a
senior at Condon High School, and plans to
attend Blue Mountain
Community College in Pendleton this fall. She will be working toward a degree as a Veterinary Technician and would like to further her education in equine chiropractic and massage therapy.
In her spare time, she enjoys barrel racing, roping, working with her horses and spending time with family and friends. Queen Shania is looking forward to representing the Arlington Saddle Club at their events throughout Oregon and Washington and would like to extend an invitation to join her for an action-packed
weekend at the 67th
Annual Arlington Rodeo.

For additional information on the Arlington Jackpot Rodeo, call 541-980-1593 or 541-980-7108.

For royalty related information call 541-384-6251.