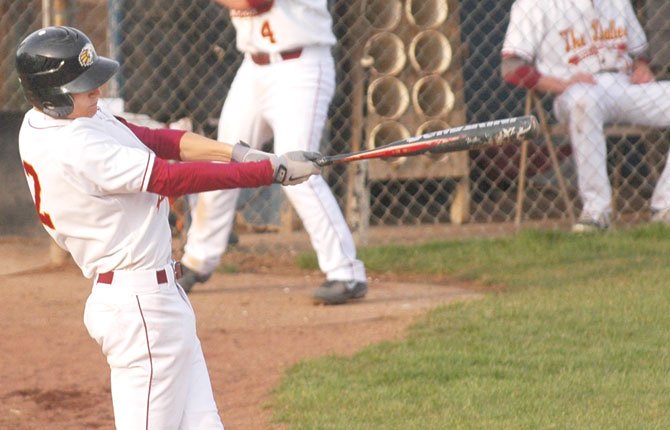 With the shine still bright after a weekend sweep of Pendleton, No. 5 The Dalles erased a 6-3 deficit with a six-run fourth inning and held off a late charge for a 12-11 victory Tuesday in Columbia River Conference baseball action at Bob White Field in Pendleton.
After losing three consecutive league contests to Hermiston by a combined 21-4 margin, the Eagle Indians appear to be back in a positive groove with three straight victories over the No. 7 Buckaroos.
It all started with some positive words from inside the locker room.
"We came to practice with a different approach in the days after our losses (to Hermiston) and we definitely changed our mindsets," said senior infielder and pitcher Steven Bartells. "In these last couple of games, we managed to get the hits, score some runs and get back on the winning track. Hopefully we can keep it rolling."
Staked to a 12-7 cushion in the bottom of the sixth frame, the Buckaroos scratched across four runs to inch to within a 12-11 deficit.
With three outs standing in the way of Bartells and a Tribe win, Pendleton had the tying run on first base with two outs for Andrew Goodwin.
Bartells got the better end of this matchup, however, as he struck out Goodwin to end the threat.
While the Eagle Indians slammed out 12 hits, they also had some help from the porous Buckaroo defense, which committed six errors.
Colin Noonan and Nolan McCall scored three runs apiece, Bartells added three hits and two runs and Zachary Keimig contributed a 2 for 5 split with a run scored and two RBIs.
Pacing the Tribe offense, Clay Copper had two doubles, scored a run and drove in four runs. Added to that, Austin Wilson had a hit, a walk, was hit by a pitch, scored, run and drove in four more.
Wilson got the starting nod, but just lasted one inning and gave up four runs on five hits.
Colton Walker tossed 4 2/3 innings and scattered five hits, walked seven and allowed six earned runs to pick up his sixth win of the season.
With six league games and a non-league matchup still left in the regular season, Bartells feels the Tribe can maintain this momentum swing for a deep 5A playoff run.
The team must continue to take things one pitch, one inning and one game at a time, however.
"We got to get ready at every single practice and come in to play on game day," Bartells said. "If we keep that same approach we have been having, then I think we can do some really good things down the road."
The Dalles (14-5 overall, 3-3 league) has another doubleheader starting at noon Saturday against No. 22 Hood River (7-12, 1-5).