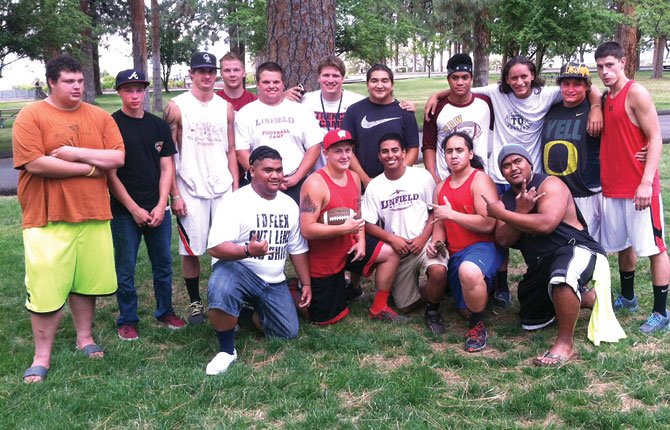 Coach and mentor Dave Johnson had some poignant words for The Dalles Wahtonka athletes Chaise Shroll, Kauone Sefo, Mike Pifer and Connor Shortt in a heartwarming soliloquy, as told to him by renowned University of Alabama head coach Paul William "Bear" Bryant.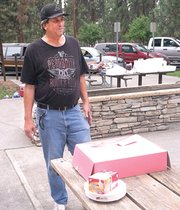 "Decide, commit, succeed," Johnson said. "Those are the things I was told at the University of Alabama. If you do it, you are going to be O.K., but you have to be ready to totally commit to the program in every way, on and off the field."
Johnson helped raise this group through the younger days, but then coaches Lynn Helyer and Steve Sugg helped instill a belief factor that encouraged dreaming that anything was possible.
Former all-league quarterback and linebacker for the Eagle Indians, Shroll, has developed a leadership quality to inspire his teammates and get more out of group that has embraced the underdog role to evoke a fight to the finish in every practice, scrimmage and game.
The three-year varsity starter now takes that skill set with him to NAIA school, Bethany College in Lindsborg, Kansas, where he earned a scholarship to play quarterback for the Swedes. Shroll will major in athletic training.
While in college, Shroll admitted that work ethic is going to be at the top of the list if he is going to enjoy continued success.
"The work is never ending," he said. "You can never do too much, whether it is in the weight room or on the field in the offseason. Because when you think you are the best, there is always someone out there who is better than you or working harder."
His football family aside, Shroll credits all of his accomplishments to his father, Tony.
Being raised by a single father brings its share of challenges, but the love has never waned and the support has been there every step of the way.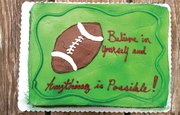 "My dad has always wanted me to do better than what he did. His main thing was graduating high school and he wanted me to become the best football player I could be," Chaise said. "Through my entire life, he just pushed me to get where I am today. I am thankful for my dad and everything he has done for me. He made a lot of sacrifices and was always my inspiration."
Pacific University comes calling
With an impressive résumé in the varsity ranks, Shortt can lay claim to first-team all-league status on both sides of the line in his final two years as a varsity starter.
Off the field, Shortt was National Honor Society President and boasted a 3.82 grade point average and so now with an academic scholarship, he has his sights set on Pacific University where he will major in Exercise Science with a goal of working towards Physical Therapy.
"They graduated three defensive tackles, so I have a good chance to step up and play and get in the rotation and maybe start," Shortt said of his new role as a defensive tackle. "I should get some good playing time right off the bat. I am looking forward to it."
He maintained contact with five other institutions along the recruiting process, but chose Pacific University because of its close-knit vibe, something he cherished as an Eagle Indian.
Shortt will miss being around his father Pat, his mother Janice and brother Derek, but he takes years of great memories with him.
"You never really prepare for leaving home. It is the toughest part," Connor Shortt said. "I am thankful for my parents and everything they have given me. I just want to go to Pacific and do well to make them proud."
More than community pride and growing up around so many teachers, coaches and townspeople is the fact that Connor looks at his former teammates making the collegiate jump and the impact it has on a program and school.
Not too often does a class have so many working toward college and making those athletic aspirations come true.
That is something that tugs at him.
"I am really excited for what our senior class did this year," Connor Shortt said. "I am excited that everyone is getting out of The Dalles and taking advantage of an opportunity to play football in college. It's great that we are all going to get the opportunity not only to grow in football, but grow academically and grow as people."
Pifer: Ready to protect and serve
Blessed with a mean streak and an insatiable love for football, Pifer is the type of player who brings his lunch pail to work every day.
He is looking forward to bringing that fire and desire to the offensive guard position on the campus of Dakota College at Bottineau in North Dakota where he will use his academic scholarship for a major in criminal justice.
"I can't believe it really," Pifer said of making the jump. "Ever since I was a little kid, I wanted to play football and go to college. Now, it is real. It is kind of nerve-racking, but it is also very exciting. I am going there with high expectations. I want to do my best for my family and my mom (Linda Pifer)."
Once his four years of education are in the books, Pifer plans to make another big move in his life as a police officer.
All it took was a ride along, two car chases and some other adventurous occurrences to hook him for life.
"I loved the action. Just like football, everything goes by so fast and you have to react in the right way," Pifer said. "I always knew that is what I wanted to do. There was something about it that caught my eye."
Faith and family lead Sefo's way
Nothing in life has come easy for Sefo, but his spirit has never gone astray.
In his sophomore campaign, he stood at 175 pounds and watched as his classmates were making a big splash at the varsity level.
He was on the outside looking in.
Time wore on and through coaching and a dedicated term in the weight room, Sefo put on 65 pounds and developed into a 6-foot, 245-pound first-team all-league and all-state linebacker.
Sefo will join Pifer at Dakota College at Bottineau where he plans to major in physical fitness.
Even while struggling with the prospects of playing football in the early going, Sefo credits the words of wisdom passed down by coaches Helyer, Sugg, Rich Belanger and Andrew Savaiinaea.
"Coach Helyer has always told me not to give up," Sefo said. "I was always thinking of not playing. He would always push me to go to zero period and try harder and harder to get better. Coach Drew taught me a lot. He inspired me to stay out of trouble and keep working. He taught me the importance of team, family and staying positive."
Sefo takes pride in having a strong family environment with his mother Louise and father Sefo setting the positive groundwork.
It is through their upbringing and his faith in God that Kauone is blessed with the opportunity to continue his playing career and also expand on his education.
To all the Samoan kids around, his focus is on showing that through God, anything is possible.
There is a profound responsibility to his heritage.
"I try to stay out of trouble. A lot of my people get in trouble a lot, so I try to avoid that and set an example," The younger Sefo said. "Growing up, I was taught to respect people. I show a lot of respect on the field and off the field. My coaches helped me with that. My parents helped me with that. If you can live your life the right way and stay with your beliefs and be strong, a lot of people will look up to you."
Building a bridge that lasts forever
Now, as these four Eagle Indians leave their nest for this fruitful journey, Johnson has a twinkle in his eye and a smile on his face, knowing the community helped bolster the persona of these young athletes as they matured from childhood to adulthood.
As a teacher, as a role model, as a coach and as a friend, Johnson knows a little bit of himself is attached to the ultimate success of this group and the others that follow in the near future.
That's what makes this process special.
"There is immense pride seeing these guys grow up to be upstanding citizens and representatives of The Dalles," Johnson said. "These kids have worked really hard and I have watched them grow. They were underdogs last year and they overachieved and they continued to move ahead in life. If they can keep it going, they are going to be successful at the next level. We hope that we can keep turning them out like this."
READ NEXT TOP STORY: MINT Team arrests man on drug dealing charges