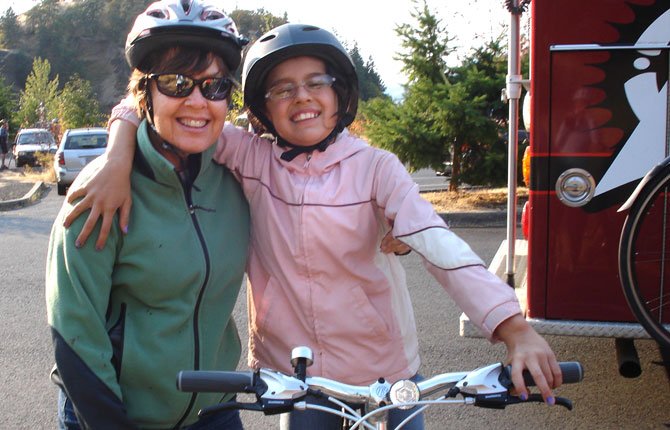 The 12-year-old "Little Sister" who lives in Wishram is not what most people expect when they think of kids who need mentors. She's bright, well-spoken, outgoing and has a supportive family.
But underneath that unstoppable smile, the staff at Big Brothers Big Sisters of the Columbia Gorge saw a young girl who needed more.
The Wishram girl lives with loving grandparents. But like many other kids in the Big Brothers Big Sisters program, this girl's family is no stranger to turmoil. For years, the girl told people her mom was frequently on vacation. In reality, her mother was serving time in jail.
Despite her brimming positivity and seemingly unwavering confidence, the girl did not share with others the whole truth about her life. She didn't know whom to trust or how to tell others, even good friends, about the reality she lived with everyday.
In October 2010, the girl was matched with "Big Sister" Colleen Ballinger, who lives in The Dalles and is a nurse at Hospice of the Gorge. Ballinger has given her Little Sister a safe space and a trusted friendship, free from judgment, in which to talk about her mom and her feelings—subjects she once considered unmentionable.
The girl has opened up and begun to process her grief. Her Big Sister acknowledges her feelings, allowing her to share openly instead of stuffing her feelings down inside and keeping her inner turmoil a secret. Now the girl shines brighter than ever with her Big Sister in her corner.
During more than three years together, Ballinger and her Little Sister have attended numerous Big Brother Big Sister events, including pool parties, the Breakfast with Santa sponsored by the Moose Lodge in The Dalles, biking workshops and windsurfing clinics. They have also attended "The Nutcracker" ballet, made countless batches of cookies, visited the Children's Museum in Portland, and practiced multiplication tables together.
Ballinger is this year's Klickitat County "Big of the Year." Big Brothers Big Sisters (BBBS) names Mentors of the Year annually to recognize the contributions its volunteers make to improve the lives of children in the Gorge.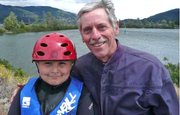 Tony Paolino of Goldendale, mentor to a boy who lives in The Dalles, is Wasco County's Big of the Year. Big Brothers Big Sisters hosted a breakfast earlier this year to honor the efforts of Paolino, Ballinger and other mentors.
Along with the recognition for mentors, Big Brothers Big Sisters also named a Match of the Year for Wasco County: Walt Notter of The Dalles and his Little Brother. They have been matched since July 2008 and have not lost any steam. They still get together nearly every week and always find a way to have a good time. They are at just about every pool party, always come to the Breakfast with Santa, have gone to the windsurfing clinic, and have been the biggest proponents of the Ultimate Frisbee gatherings held at Sorosis Park.
Fun is important, but mentoring matches also have a serious impact on children's lives. Notter's Little Brother has spent time in foster care and has a mostly absentee father, so having a dependable and supportive Big Brother in his life has helped to boost his self-esteem and sense of security.
BBBS currently serves 73 matches in the region, including Wasco and Hood River counties in Oregon and western Klickitat County in Washington.
Big Brothers Big Sisters, a program of The Next Door, creates and supports mentoring relationships between children and adult volunteers. There are Little Brothers and Sisters waiting right now to make a new friend.
For more information, contact match coordinator Courtney Kendrick at 541-296-8118, ext. 216, or CourtneyK@nextdoorinc.org.