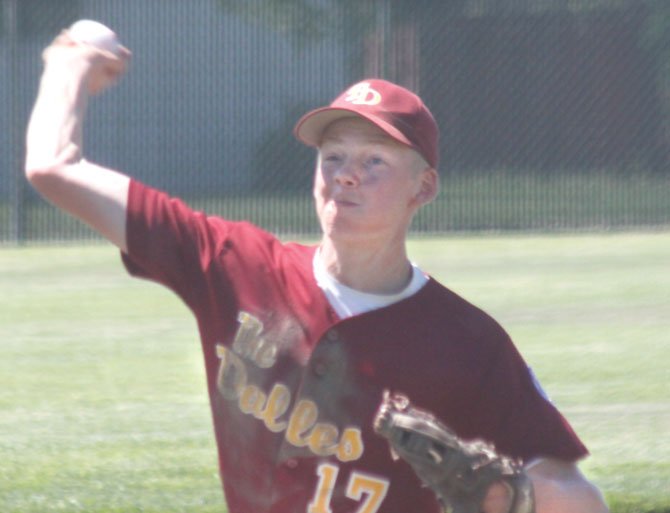 Once the shine wore off on reeling off an impressive performance at last week's Babe Ruth State Tournament, The Dalles 15U All Stars were back to work on the diamond with all eyes fixated on continuing this dream run.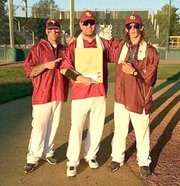 This next phase is increasingly challenging for this group that has amassed a 10-0 record in sweeping through districts and state.
In that 10-game span, 53 innings, the district and state champions have rapped out 79 hits and outscored their opponents by an impressive 106-13 margin.
It will take the same offensive ferocity to defeat the likes of Baker City, North Washington, Wyoming, Idaho and Montana if The Dalles is going to claim a Pacific Northwest Regional crown at the Baker Sports Complex in Baker City.
"They are playing great baseball. If they continue to compete and accomplish their goals, I will be able to walk away feeling great about everything," said TD skipper Sean Herriges. "They love the game and they are having fun."
One main reason for the offensive success is a testament to the hot hitting and base stealing abilities of the top of the order in Johnny Miller, Dawson Hoffman and Denzel Arellano.
That trio combined to hit at 18 for 33 (.545 average) with 21 runs scored and 12 RBIs in four state contests.
Just a little more than two weeks ago, Herriges decided to make a switch to put Miller at the leadoff spot and he has flourished.
"He solidified that spot because he gets on base all the time," Herriges said of Miller. "When we turn the lineup over, he also produces RBIs when the 7-8-9 guys get on base, driving them in. He is on fire of late. He has been swinging the bat really well."
While this team is getting a balanced offensive display from all nine batters, the pitching is in lockdown mode with Dylon Jinkins, Hoffman, Tyler Westin, Boston Bate, Preston Klindt and Cameron Wang painting corners, changing speeds and keeping the opposition off kilter.
The pitching staff gave up 12 runs on 19 hits and fanned 33 in state play.
Jinkins got the pitching off on the right foot in pool play with a five-inning, two-hit effort with six strikeouts on 72 pitches in a 13-1 triumph over Pendleton.
The one run allowed was unearned.
In the finale, Bate and Wang joined forces on the mound in an 11-1 five-inning triumph, by holding Union County to three hits.
The scary part is that Herriges did not use his entire pitching arsenal, so there are plenty of bullets left in the chamber come regionals.
"We have depth there. We have four guys who did not even take the mound at state that I am comfortable starting," the coach said. "All we did was use two pitchers twice. Our depth came into play."
Of course, the names of Miller, Klindt, Jacob Wetmore, Aaron Maney and Izaac Tapia have been through the cycle of The Dalles sports for several years, but this group welcomed Wang and Matty Changar from White Salmon, Wash. and they have blended in nicely.
Usually there is time needed to acclimate to the new surroundings, but they have hit the ground running, adding seamless continuity to this postseason run.
"We picked up two quality character kids from White Salmon that have helped put us over the top," Herriges said. "They are great ball players and character, high-value kids. Together, we have great chemistry amongst the coaches and the players."
It is hard to imagine that this same core bunch appeared to be falling apart at the seams in 2013 after a 0-4 stretch in state tournament play last year in The Dalles.
Herriges was set on retirement, there was some inner turmoil and things just did not have a certain flow.
This group is a year older, wiser and more mature, so add that to the acquisition of two White Salmon players and two new assistant coaches in former two-time state champion baseball player, Mike Wilbur, and former TD all-league standout, Kenny Harris, and this symphony has a poetic flow.
The hope now is that the beat goes on this week in Baker, so that The Dalles is making sweet music in Longview, Wash. for the ultimate goal – the Babe Ruth World Series.
"Their journey continues on to regionals and I like our chances again to go in and win regionals and continue to play baseball for the rest of the summer," Herriges said. "We can go in there and we can play on that championship Sunday and we can win it all if these guys put their efforts out there like they have been."
NEXT TOP STORY: 20 year of Neon