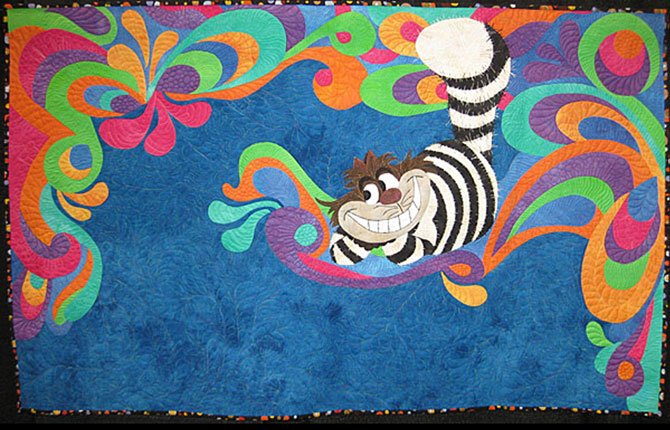 The Columbia River Gorge Quilters' Guild (CRGQG) will present its annual Quilt Show at the Hood River Middle School, August 14-16.
More than 100 quilts will be on display, representing current traditional and contemporary work by local quilt-makers from communities throughout the gorge. The three-day event features the guild's first Quilt Market.
"Our members have cleaned out their sewing rooms and studios and we've put it all on sale at bargain prices — fabric, patterns, tools, books, magazines, yarn," said Kathleen Roulet, guild president. "Plus there's a consignment boutique that includes a selection of handmade items for sale."
The highlight of the show is an exhibit and Saturday noon lecture by the show's featured artists, the Cover to Cover Book Club Quilters.
For the past 13 years, these Portland quilt artists have been exhibiting their quilts and winning top awards at major shows across the country, including the 2014 American Quilters Society show in Paducah, Ky.
This book club turns the books they read into art inspired by literature. While all members read the same book, the stunning quilts they create are as different and dynamic as they are.
Cover to Cover will share a selection of their quilts in a special lunchtime lecture on Saturday, Aug. 16, at noon at the Hood River Middle School. Admission is $15.
Thursday and Friday will feature representatives from Latimer Quilt and Textile Center in Tillamook exhibiting a collection of vintage quilts.
The show is open 10 a.m. to 5 p.m. daily. Admission is $6.
The Columbia River Gorge Quilters' Guild was launched in February 2007, welcoming members from both sides of the Columbia River. Today membership exceeds 100 and includes quilt enthusiasts from Washougal to Arlington and from Goldendale to Grass Valley. To find out more about the CRGQG, their activities and information about the upcoming quilt show, visit www.gorge quiltersguild.org.
READ NEXT TOP STORY: Editorial cartoons from Aug. 5