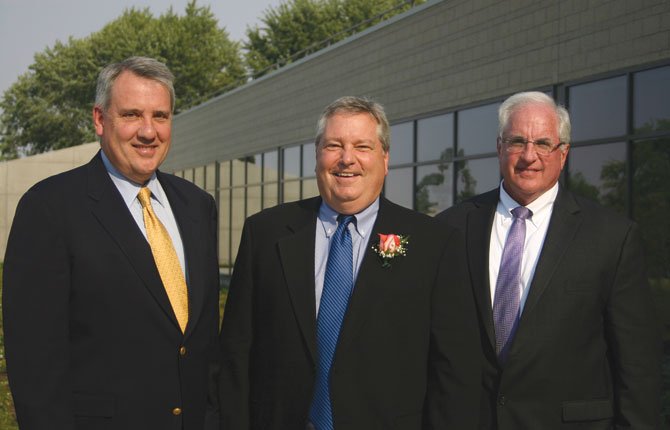 Leaders of Mid-Columbia Medical Center and Oregon Health and Science University have launched a new phase in the more than six-year association between the two medical facilities aimed at improving access to primary and specialty care for patients in The Dalles and surrounding communities.
"This is a big day in the history and trajectory of MCMC," said Duane Francis, CEO of the local health care organization, "and we think also in the future of OHSU."
Among the specific changes under the new affiliation, which took effect Aug. 1, electronic health records at MCMC will migrate to OHSU's Epic system. MCMC records are currently housed on seven different systems that face challenges in communicating with one another, Francis said. On its own, MCMC isn't large enough to work with Epic.
"But because of our collaboration, we can," he said. "OHSU is investing significant resources in assisting us with doing that."
Joining the Epic system will have an effect on how medical care is delivered, Francis said. The process should take about 18 months.
"I think, in terms of delivering care bedside in both inpatient and outpatient settings, we will have the ability now to work with new telemedicine offerings we haven't been able to do before."
The new collaboration also involves what Francis describes as a "physician alignment strategy." Over the next two years, physicians and mid-level practitioners (nurse practitioners, physician assistants, etc.) will become employees of OHSU.
"What OHSU brings to the table is an ability to manage, direct and oversee clinicians," Francis said.
The partnership between the two organizations started in a targeted fashion, by addressing specific specialties including cardiology, orthopedics and others.
One of the successes they point to is improvement in the "door-to-balloon" time through Emergency Department and telemedicine practices. Door-to-balloon is the time between when a cardiac patient walks through the door at the local Emergency Department and undergoes surgery at the Portland facility.
They started with a time of 190 minutes and a target of less than 90 minutes, the ideal to minimize heart muscle damage. Turn-around time is now at 83 minutes, rivaling times of Portland institutions, Francis said.
The partnership between the two organizations has benefitted the community in other ways, too. He pointed to a patient with a chronic illness in Cascade Locks who wrote him to extoll the virtues of one of MCMC's home health nurses who visits on a regular basis.
"I wish I could convey the sense of gratitude and love this patient had for the practitioner," Francis said. "She is an OHSU-trained nurse who has worked here for a long time."
As a result of the care, compassion and professionalism of this nurse, Francis said, the patient is able to stay in the comfort of his own home, surrounded by loved ones.
While the two medical organizations will expand their collaboration, MCMC will continue to be overseen by an independent, local board of directors.
"This is not a merger or a consolidation and there is no transfer of assets," Francis said. "We have forged what we think is the best of both worlds, allowing MCMC to be governed by a local board sensitive to the needs of the region … And be a key strategic partner with OHSU."
Working together also helps OHSU fulfill a key part of its mission to become involved in the community, Francis added.
Dr. Joe Robertson, President of OHSU, reinforced what he described as "the bilaterality" of the arrangement between the two health care partners.
"Each institution brings a lot to the other," Robertson said. "Everybody [in the health care industry] is talking about consolidation, but consolidation is different. The way we're doing it is collaboration, rather than acquisition."
Between the two organizations, they hope to have better efficiency and effectiveness.
"No one institution will have all the experience and resources to treat the population going forward," Robertson said. "This is a unique pairing of the best community health system with the best academic health system."
The changes will also provide an economic boost to the community, Robertson said.
"We are looking at providing services in the region that are not currently available," he said. "More people will be able to get care closer to home."
More providers will be located in the region, he said, although neither he nor Francis provided details on which new services would be available, saying only that the specifics would be determined over time.
"Each time we instate a provider in a community, it equals about $1 million in economic development," Robertson said.
He also noted that availability of local medical services can have an effect on the decisions of some people on where to locate during retirement.
Providing services closer to home also offers benefits to OHSU, said Dr. Mark O'Hollaren, director of clinical outreach.
"OHSU is sited on the top of a hill in downtown Portland, yet we are charged with being innovators in health care for the entire state."
He said the partnership with MCMC is helping the teaching hospital learn how to do that and is breaking ground that could be followed by other communities around the state. In addition, O'Hollaren and Robertson expect Mid-Columbia Medical Center to play a role in research conducted through Oregon Health and Science University.
Collaboration between the two health care providers is also a way the two are gaining economies of scale to help address the changing environment under health care reform. And by providing more care closer to home, it will reduce the need for OHSU to provide added beds in Portland.
"We think this collaboration is going to strengthen both MCMC and OHSU in ways that directly benefit patients and families in The Dalles and the many surrounding communities that rely on MCMC for their healthcare," Robertson said. "By working together, we can avoid duplication and keep patients close to home as much as possible. But when they do need to come to OHSU, we want to make the coordination seamless and minimize the disruption to families."
READ NEXT TOP STORY: Corps will disclose pollutants released by dams in historic deal