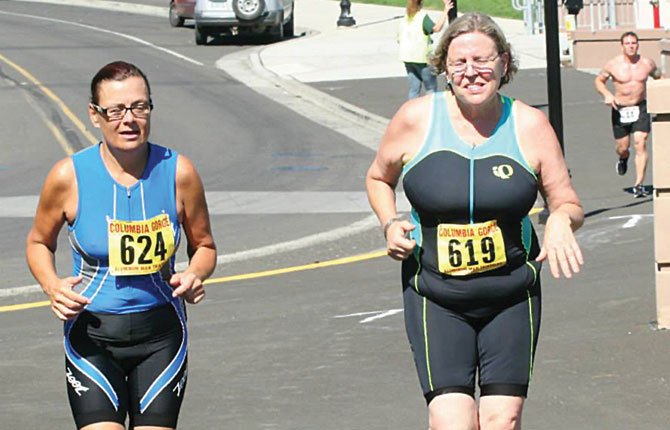 In the final triathlon race of the 2014 season, several of the Pacific Northwest's top athletes will be on full display for the 26th annual Aluminum Man Triathlon on Saturday, Sept. 6 at Riverfront Park in The Dalles. In looking at the numbers from years past, there will be a group of nearly 300 penciled in for participation in two levels of competition — the Olympic and the sprint events. In the sprint, athletes need to complete 500 yards of swimming, 12.43 miles of biking and 3.11 miles of running.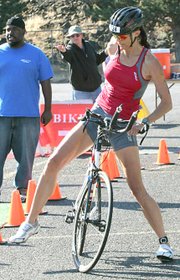 The number of local competitors is usually high with triathlon enthusiasts spanning Goldendale, Hood River, Dufur, White Salmon and The Dalles, but there are a few from Vancouver, Portland and everywhere else from all over the Northwest.
From last year's group, Hood River's Nil Engbersen scored second place in the sprint triathlon with a time of one hour and 9.13 minutes, finishing less than three minutes behind Boring's Jay Schroeder (1:06.34).
On the women's side, Dufur's Leanne Neal had the best finish amongst her local peers with a time of 1:17.52 for second place and 14th overall in the field of 111 sprint competitors.
Dufur's Leona Egeland (1:29.20), The Dalles' Chip Wood (1:31.08), Heidi Gustafson (1:37.27), Eric Whaler (1:42.40) and Goldendale's Bill Vanvelsor (1:50.30) highlighted the rest of the Greater Columbia River Gorge pack.
Jeff Rippey, of Hood River, took hold of first place in the master's category with his 1:12.58, and Hood River's Heidi Engbersen secured second place in the women's Master's Division at 1:24.32.
Just like any triathlon, these athletes train year-round to ensure they are in peak condition for such a grueling test.
Whether a person winds up in first place, 40th place or last, crossing the final tape in an accomplishment.
The sprint class participants traverse a course of three events like swimming (.5k), biking (25k) and running (5k), but the Olympic Triathlon doubles those distances in a much more challenging manner.
If one of these triathletes is to come out ahead, he or she needs to be on expert status in all three sports, where different muscles are put through the grind.
A less-perfected regimen in any event could make the difference between a top-10 output and bottom-10 time.
In the Olympic class, where athletes swim 1k, bike 50k and run 10k, there were eight locals who put up solid markers.
Mosier's Philip Evans dominated the field in 2013 with a final tally of 2:28.28 for first place.
Hood river's Patrick Hiller (2:20.29) and Rutger Engbersen (2:23.06) rounded out the top-3.
The Dalles' Jason Whitley (2:26.37) carded seventh place, White Salmon, Wash.'s Patti Boyd (2:41.57) placed 24th and fellow White Salmon resident Michele Reitz (3:01.54) churned out 52nd place out of the field of 83.
Dan Richardson (3:16.41), of The Dalles, along with David Badel-Ramirez (3:17.08), each posted top-67 outcomes.
On one hand, being well-trained in each event is critical, but dealing with the temperatures rising above triple digits and moving seamlessly from bikes to the running is one of the most difficult challenges to master.
Maybe it is the thrill of it all or maybe an athlete chooses to sign up to cross off a bucket list accomplishment, but no matter how difficult or punishing to the body a triathlon is, the popularity of the event has skyrocketed in recent years.
On the website getgoingnc.com, sprint events held across the United State grew from 818 in 2004 to 1,393 in 2009. According to the Sporting Goods Manufacturing Association, the total number of Americans who participated in a triathlon — USAT sanctioned and otherwise — in 2009 was 1.2 million.
Aside from running, swimming, playing hoops or windsurfing, triathletes embrace the difficulties of mastering three events as a means to find the fighter within.
As crowds surround the participants with cheers and words of encouragement, it is a select brotherhood of top athletes and admirers who come together for the focus on family.
The Olympic event starts at 9 a.m. and the sprint athletes hit the pavement at 9:30 a.m.
Both the start and finish are at Riverfront Park in The Dalles.
Costs are set at $65 for individuals before Aug. 22, $70 after and $85 from Aug. 30 until the day of the race.
For those interested in participating on the team front, costs are $35 before Aug. 23, $40 after and the entry fees swell to $50 from Aug. 30 until Sept. 6.
T-shirts are provided for participants who sign up before Friday, Aug. 30.
Awards will be offered for finishing races based on the 16 age divisions, where runners from ages 12 to 80 compete.
For more information on upcoming events, call 541-296-9533, or e-mail the event administrators at info@nwprd.org. Interested parties can also sign up through the web at http://www.racecenter.com/aluminumman/#course.
READ NEXT TOP STORY: Boundary group hopes to iron out problem lines