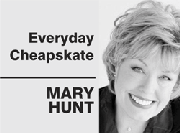 It's been more than a year ago that my husband remodeled our home. This is no ordinary man. He has an amazing ability to design, destroy and rebuild with amazing results. This remodel was extensive, which means by the time he hauled 30 truckloads of demolition to the dump, I had dirt for floors with beams and studs for walls.
Now imagine this: Both of us continued our fast-paced work schedules through these six months of chaos. We didn't move out to temporary quarters. We worked every spare moment. Being novices, we hired professionals for plumbing, electrical, drywall and so on. Normally, this would have brought me to a screeching halt.
How can you find a reliable, honest, quality professional to do this kind of important work in your home? We've all heard horror stories of fly-by-night subcontractors who promise but don't deliver. We just didn't have time to interview and get multiple bids. We wanted real, honest and reliable referrals from people like us who could recommend professionals for our job.
I visited Yelp.com, and while I found a ton of information, I didn't feel completely comfortable. How can the same plumber, for example, get several 5-star reviews and 14 2-star reviews? That's not consistent and makes me wonder, were the 5-stars from family members wanting to counteract the lower ratings? Did a disgruntled employee post reviews with low ratings to get back at the company? I'll use Yelp.com to shop for restaurants and hair salons, but when it comes to my home, I need a more reliable source.
Angie's List (www.everydaycheapskate.com/angieslist) has delivered beyond my expectations in the past, so it was only logical to head there again. I find this is a membership service (about $10 a year) worth every penny. The thing I like is that every referral is from someone who has actually used that service. The referrals are detailed and specific. I could read exactly what this particular plumber did, whether he showed up on time, if he cleaned up, was friendly, how much he charged and whether the job was completed on time and the quality of workmanship.
We hired all of the workers we needed directly as a result of the referrals on Angie's List. If I sound like a crazed fan, that's because I am. Without exception, we have received exactly the A+ results we expected from the more than nine companies we hired. This is not a fluke. It's the value of getting good referrals before the job starts, not shooting in the dark, and then having to deal with a mess on the other end. Want to see the remodel results? Go to EverydayCheapskate.com, look for "Mary's LIfe."
Earlier this year, we purchased another home in Colorado, with the plan to lease it out. Here I was in California needing to get that home ready for occupancy. I added Colorado to my Angie's List subscription and went to work. I hired a carpet cleaner, housecleaner, garage door servicer, electrician and plumber to perform specific jobs and upgrades — using only Angie's List as my resource.
I handled everything from long distance, scheduling all of the work from my office in California. I gave each worker the access code to the garage door opener so they could get in. Without exception, each of these companies I hired went way beyond the call of duty. They called ahead, called once they were on the job, sent photos before and after, and every one followed up to make sure we were fully satisfied.
That house shone like a new penny, and we leased it immediately — all long distance. I owe this all to knowing how to find the best professionals, based on referrals from real, live people who make up the community of Angie's List.
Angie, if you're out there, thank you. Your service has given me peace of mind, confidence and saved us so much time plus all the money we didn't waste by hiring the wrong people.
Mary Hunt is founder of www.DebtProofLiving.com.
To find out more about Mary and read her past columns, please visit the Creators Syndicate Web page at www.creators.com.