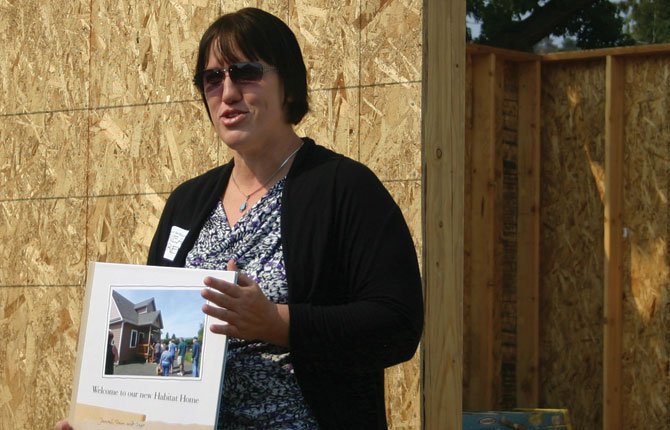 Volunteers needed
Columbia Gorge Habitat for Humanity is seeking volunteers to work at the ReStore and in other capacities. Contact Executive Director Kayleen Warner for information at 541-296-8817 or columbiagorgehfhed@
gmail.com.
Standing at the construction site for a future Habitat home Aug. 2, holding a photo of her own completed Habitat home, Janeal Booren said, "It's been quite a journey."
"It's been a wonderful learning experience," Booren said at the East 12th Street ceremony celebrating the merging of The Dalles Habitat for Humanity and Mid-Columbia Habitat for Humanity into one organization, Columbia Gorge Habitat for Humanity. "It's nice to know I can raise a family. I have a 17-year-old who just graduated and a 9-year-old who is in the fourth grade. They love having their own bedrooms, safe and sound. Hopefully, we will create a volunteer in time. My youngest, if he were old enough, would be here and building."
Stories like Booren's speak to the heart of Habitat for Humanity's hand-up not hand-out philosophy toward housing
She and her family used sweat equity to qualify for their home. Since then, she has been buying her home through affordable payments. Last year, Booren joined the partner committee, the group of people who work through the process of owning a home with Habitat candidates.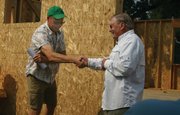 "Thank you, Habitat, I hope I can continue giving back," she said.
Saturday's event opened with celebratory comments from Chip Wood, board president of Columbia Gorge Habitat for Humanity, and Roger Holen, board vice-chair, formerly Mid-Columbia Habitat's president. "We've had the momentum of a lot of great volunteers," Wood said, looking back over The Dalles group's 21-year history.He credited Lucille and Jim Torgerson with creating the momentum to form the organization.
"Lucille was great at stopping people in parking lots and stores," Wood said, "and asking for support."
Holen remarked on the long relationship between the two organizations, since Mid-Columbia was founded in the mid-2000s. Volunteers from both organizations have worked on houses for the other and The Dalles Habitat helped finance a four-lot building parcel in Lyle.
"The merger was a year-long process overseen by Habitat International," Holen said. "They made us jump through a lot of hoops to make sure this was right."
Holen cited the constraints of urban growth boundaries in the west end of the gorge, which have prompted land costs to rise significantly. So instead of building houses, the organization launched the Brush with Kindness program under Habitat International rules to provide minor repairs, mostly for senior citizens, to help them stay in their own houses.
"These are people who need help to stay in the business of being a homeowner," Holen said.
Even with the land constraints, Mid-Columbia Habitat has built four homes, bringing the total up to 23 between both groups, with two more under construction.
The Dalles Mayor Steve Lawrence helped the organization celebrate with a few words on Habitat and the local housing situation.
"This program involves three really important words: housing, volunteers and collaboration," Lawrence said. "Housing has become a priority between the Regional Solutions Team appointed by the governor. We have worked with the housing authority here to get a revolving loan of $2 million to build low-income housing."
He said the group is looking at getting more money for that purpose.
Housing needs are different between Hood River, Klickitat and Wasco counties, the territory Columbia Gorge Habitat serves, Lawrence said. Hood River's average housing price has shot up in a short period of time from $210,000 to $320,000.
"All of the vacationers have swept up the houses," he said, leaving little affordable housing there. "In The Dalles, we have a lot of aging houses and we need to improve our density."
Without the immediate ability to expand boundaries, Lawrence said, "We need to do what we can inside."
The event was also an opportunity to honor some long-term volunteers, including Corliss Marsh, who has served as the volunteer director for the organization for about 20 years. The merged organization has been able to hire a part-time executive director, Kayleen Warner, who will work to build organizational capacity.
Warner was introduced at the event.
Also honored was Laura Munsen, a volunteer with Habitat since it began. She is moving out of the area.
Hillary McKay, a summer intern for the group, was also recognized.
READ NEXT TOP STORY: Gorge artist show opens Thursday, Aug. 7