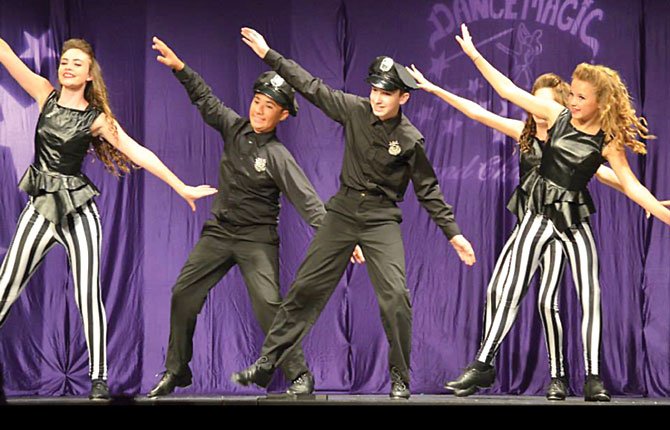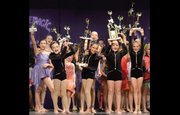 With temperatures rising to nearly triple digits outside, The Dalles Dance Club Academy members brought the perfect storm to the Seaside Civic and Convention Center.
Every routine and every dip, shuffle and twirl were executed in perfect harmony, as The Dalles Dance Club whirled their way to 10 first-place finishes at Dance Magic on Monday afternoon in Seaside.
While facing some top dance teams from across the Pacific Northwest, Kristi Maley had her group in its highest form Monday in this challenging performing arts competition in jazz, tap, lyrical, ballet and hip hop.

In addition to the bevy of top performances, the beginning and intermediate divisions secured the highest point totals of the event shattering exploits of recent history.
"This was one of our best competitions ever," said long-time Dance Club instructor Kristi Maley. "The kids were well prepared and looked so professional on stage."
The biggest winners were Elizabeth Olivan, Hayley Peterson, Tora Timinsky, Madison Malcolm and Katelyn Vassar, who won the beginning division crown with their jazz dance and were awarded $250 in cash.

Also, Hannah Kortge and Alejandra Peña staked claim to judge's awards for their efforts.
In group events, Olivan, Peterson, Timinsky, Malcolm and Vassar notched their first place in the jazz competition and tacked on top recognition in beginning tap as well on their way to top honors as the highest scoring group and highest scoring dance overall.
"I am really proud of my younger group for working so hard that they were able to accomplish so much," Maley said.
Lorelay Berry, Kortge, Paige Bankhead, Olivan, Meli Avila and City Mains reeled off first place in both tap and jazz to dominate the intermediate division and joining them were another group who shuffled their way to golds.

Nathan Nanez, Riley Brewer, Anna Singhurst, Evan Despain, Ella Morgan, Jordyn Hattenhauer, Gillian Wolf, Electra Wickersheim, Sophia Pullen, Sydney Rains and Aidan Telles were too much for the competition, as they combined moves for first place in jazz and tap in tallying the highest scoring outcome in the intermediate division.
On the individual side, Berry took on all comers and worked her magic for tops in the intermediate jazz arts solo, and Kortge dipped and swiveled her way to first place for her tries at intermediate solo jazz.

The highly-touted group of Pena, Taylor Sugg, Delaney Schanno, Lauryn Despain, Destin Ramsey, Lillia Chance, Sydney Langer, Alissa Pastor, Alexis Pastor, Alyssa Valles, Keagan Rice, Abby Mains and Jessika Nanez were an indestructible force when they reached their fever pitch to rack up high point totals for first place in the accelerated jazz accelerated tap division.

Added to that cooperative routine, Sugg shrugged off the field in picking up first place in her jazz solo routine to cruise past the rest of the Accelerated Advanced Division.
Rounding out this impressive display of unified dancing, Abbey Helseth, Tianna Smith, Jessika Nanez, Kendyl Kumm, Crysta Harris, Abby Mains and Allyson Lutgens rolled out to third place for their jazz routine in the advanced division.

From top to bottom, this perfectly tuned machine came out firing on all cylinders to put forth one of their best performances in a long time.
For the past six months, Maley has been in the trenches with her group in an effort to get them in top form for an in-depth summer session of dance, changing and perfecting routines.

It all paid off in spades.
"This was a great competition for the whole studio," Maley said. "We had the highest scoring groups in every division (beginning, intermediate and accelerated advanced), but the advanced division."
The Dance Club will resume its nightly classes on Sunday, Sept. 7 and it is open for boys and girls from the ages of 3-19.
For information on the club, go to The Dalles Fitness and Court Club, located at 731 Pomona Street in The Dalles or by e-mail at kristi.maley @gmail.com.
READ NEXT TOP STORY: Habitat for Humanity groups celebrate merger