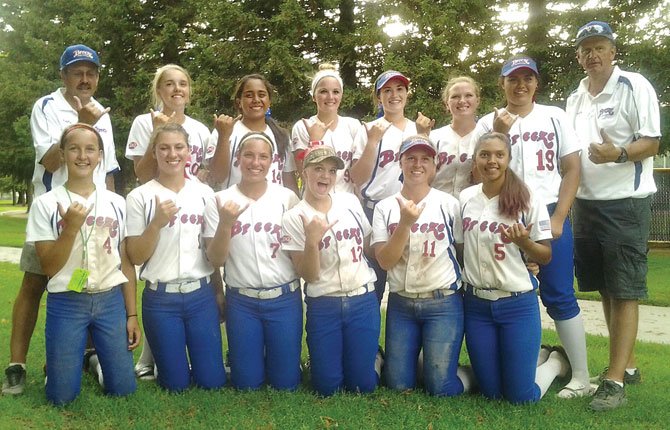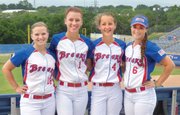 In his 20 years, Aloha Breeze coach Rob Combs has seen a lot of talent play on diamonds across the nation.
His group 16U athletes rank right up there with some of the best.
The Amateur Softball Association 'A' bracket team amassed a 25-19 record overall and captured fifth place in each of the state tournament, regionals and just completed Western Nationals held last week in Clovis, Calif.
"I am very proud of what this group of girls was able to accomplish," Combs said. "We did really well. In so many games we just found ways to win. We never felt like we were out of it. Our pitching, defense and hitting came through at big times in these tournaments."
At Nationals, the Breeze started out 2-0 in pool play and won their first bracket game 4-2 over the West Coast Fastpitch Academy.
After an 8-2 setback to the 16U Force, the breeze went to work in the consolation rounds to win four games in a row over the Central California Outlawz, the South California Breakers, the Central California Insanity and the West Coast Fastpitch Academy by a combined 33-9 margin.
The 5-4 win over WCFA, put the Breeze into rarified air with a quarterfinals berth.
However, the four-game winning streak under harsh triple digit temperatures, came to an abrupt end with a 7-5 loss to the Combat Panthers.
That loss aside, the Breeze scored fifth place out of 35 teams, and had the best outcome amongst any program from Oregon/Washington.
"At Nationals, it was 109 degrees. Those girls played four games, back-to-back-to-back in the heat of the day, and they just kept going," Combs said. "I am really proud of the girls. They really stepped up and did a great job."
This roster is comprised of many elements representing towns such as Hillsboro, Scappoose, Banks, Aloha, Liberty, Hawaii, and The Dalles.
Some of these kids have played together for three years and the TD quartet of Kathryn Bradford, Grace Helyer, Ruthie Ford and Maddy Bradford were the new kids on the block.
Kathryn Bradford, who was part of a 14U team, had significant innings played in the outfield and her speed was utilized as a courtesy runner.
Maddy Bradford was one of the aces of the pitching staff, Helyer honed her skills at catcher and third base and Ford was the captain of the outfield out in center.
In his first year working with the TD group, Combs felt that they left a lasting impression.
"Each one of those players was a pleasure to have," Combs said. "They brought a lot to the table. They sacrificed a lot coming down here every weekend for tournaments and during the week for practices. Each one of them were keys to the team. They were great team players and wonderful kids, who brought a lot to this team."
When it comes to building his summer roster, chemistry and camaraderie play a bigger role to the selection process than skill.
These athletes are together for three months during the summer, traveling across state lines and beyond for the love of the game.
Up until the Hall of Fame National Qualifier in Oklahoma in June, the Breeze had a record of 7-11, but it was there 1,800 miles away from home, that this squad flipped the switch and began to hit their stride.
The Breeze went 1-2 in Oklahoma, with a 4-1 tournament-opening victory over North Carolina.
After that triumph, the Breeze lost 5-2 to Texas and then eliminated from contention in this 15-team field with a 5-4 extra-inning loss to a tough Alabama group.
In scoring those four runs, the Breeze scored more in one game against Alabama than any other team in the tournament.
After that tournament and once the calendar flipped to July, the Breeze went 18-8 over their next 26 matchups and outscored opponents by a robust 173-111 margin.
At state in Salem, the Breeze went 3-2, and a week later at regionals in Kent, Wash., they rattled off a 6-2 record and outscored opponents, 62-30.
But, it all goes back to Oklahoma.
"The Hall of Fame Nationals was the turning point in the season," Combs said. "Even though we lost in an international tiebreaker to Alabama, we scored four runs. The girls realized at that point that they were pretty good to play tough against a quality opponent. It kind of propelled us when we got to state. We were missing a few of our players, but still won some big games."
By attaining such a high level of success, there is huge momentum on the Breeze's side for next season when they make the jump to the 18U ranks.
Coach Combs and his assistants of Jerry Snyder and the duo of Michelle and Kelsey Combs are believers in that notion.
Along with Ford, Helyer and the Bradford sisters, Shearyna Labasan, Sage Harrison, Tiffany Snyder, Taylor Peterson, Leila Belog, Chandie Perez, Claire Lucas, Emily Powers, Shakayla Snyder, Sarah Hess and Stephanie Stamnes will be the building blocks to a successful 2015 season where a state championship and National crown are realistically within reach.
"This is a group of kids who are unselfish and they understand that it is a team effort," Rob Combs said. "None of these kids are great, great superstars, but they are good, solid players with great attitudes and they give it 110 percent. That is what we look for in our players. We will try to do again next year. I am excited about our chances."
READ NEXT TOP STORY: Hamas says Gaza war not over until demands met