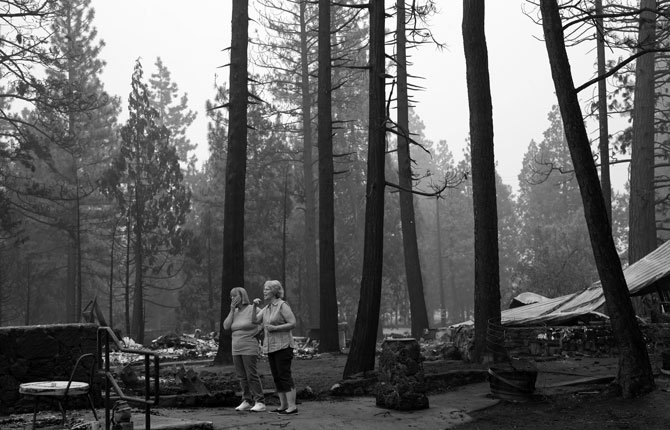 Corvallis Gazette-Times, July 31:
As you already have noticed, we've entered the heart of fire season, and even though firefighters appear to have the upper hand on the tough Bingham Complex Fire burning in the northeast portion of Linn County, there's more to come — potentially, lots more — over the next two months.
Forecasters at the National Interagency Fire Center predict above-normal fire conditions persisting in Oregon throughout August and, more than likely, into September.
The long-range outlook also calls for above-average temperatures throughout the West through October. And that translates to fuels that are drier than usual. As the center noted in its July 1 report, "the fuels and drought conditions across the West point to a condition that would support a greater than usual likelihood of significant fire."
A week or so ago, some 600,000 acres were on fire in Oregon. That number will increase over the next two months — and another round of lightning, always a possibility, could make matters considerably worse.
It's also a sure bet that wildfires, not just in Oregon but throughout the nation, will be stretching our firefighting resources thin. Most recently in the mid-valley, some of the resources allocated to battle the Bingham Complex were reassigned to fight massive fires in Washington state.
All in all, federal officials estimated in May that the tab for fighting 2014's fires could amount to $1.8 billion — about $470 million more than was appropriated.
What happens then is that the agencies responsible for fighting wildfires — the U.S. Forest Service and the Bureau of Land Management — dip into other funds to pay for firefighting. Many times, the funds that are raided would have been used for forest management — for example, projects that would help to thin the undergrowth that allows fires to burn hotter and fiercer than they would have without the additional fuel. President Obama is seeking an emergency supplemental funding request for an additional $615 million.
In the meantime, Congress has yet to move on a proposal — sponsored by a bipartisan collection of lawmakers — that would move any fire suppression spending above 70 percent of the 10-year average to a disaster funding account that is separate from Forest Service and Department of the Interior budgets. Such a designation would help preserve money earmarked for forest restoration.
Earlier this month, three Republican senators, including Arizona's John McCain, introduced a separate measure that would allow agencies to tap into emergency funds only if they completely exhaust a given year's budget. Half of any additional money would have to go to fuel-reduction projects.
In terms of helping to pay for work that would help to prevent future fires, both proposals would appear to be better than the system we have now. But Congress needs to move swiftly, because our forests are burning now.
READ NEXT TOP STORY: For the record, Aug. 7