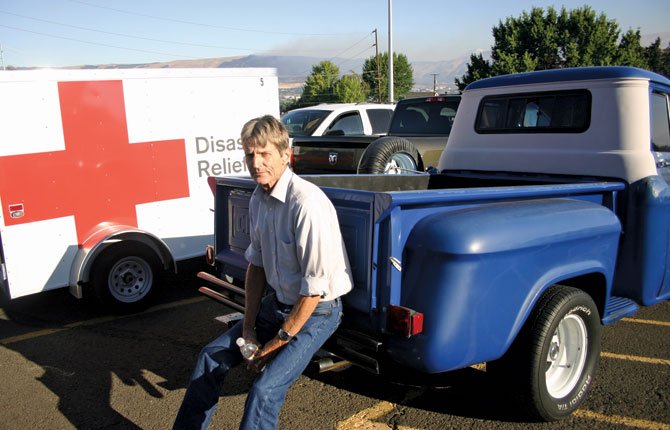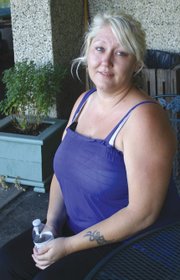 As Mara Ctsiatigi and her son evacuated from their just-bought home in Pinewood Mobile Manor last night, her son said of the frantic scene, "This is what it's going to be like when the world ends."
Ctsiatigi and her son were among the 15 people who used the Red Cross shelter at Dry Hollow Elementary last night. An estimated 600 people were under mandatory evacuation from 275 homes in the path of the Rowena Fire, which, fueled by high winds, reached the west end of The Dalles by evening.

Just five days earlier, Ctsiatigi bought her home in Pinewood Mobile Manor, on Highway 30 near the Discovery Center. She figured she needed insurance on it, but was going to wait for payday, "and then this happened."
Today was supposed to be her second day on a housekeeping job at Evergreen The Dalles Health and Rehabilitation Center, but she had to call in to say she couldn't make it.
She evacuated last night around 7 p.m., and at first tried sleeping in her car, but by midnight, she and her son had had enough of that and they came to the shelter.
She described her day of fire-watching.
"Yesterday I watched it rolling off the hill. It looked like lava rolling into town.
"People started packing their houses. They were taking truckloads and truckloads." But earlier in the day, the manager of the park told her that fires came close before, but never posed a real threat, "so I didn't freak out."
But then the fire crested a hill on the other side of Highway 30 from the trailer park. "It took literally minutes and it was rolling down the hill," she said. Within 30 minutes, it was at the bottom of the hill, threatening the park. All that separated them from the fire was the road and a large dirt field.
She and a neighbor prayed. Shortly thereafter, the manager who had earlier urged calm came to her and said it was time to leave.
It was a frantic scene, the sun blood-red from the smoke. She bawled as she left her new home.
Ctsiatigi also happened to witness an accident yesterday at 4 p.m. involving a fire vehicle. The vehicle just missed her, but hit one next to her, she said.
The Dalles Police Chief Jay Waterbury said Mid-Columbia Fire & Rescue Chief Bob Palmer was eastbound on West Sixth Street when it "drifted into the wrong lane and collided with another vehicle."
That vehicle was then hit again by the vehicle behind it, Waterbury said. The third vehicle was driven from the scene but Palmer's vehicle and the one he reportedly hit were towed. Palmer was treated at the hospital, Waterbury said, but released before evening. The two occupants of the hit vehicle were taken to the hospital for treatment.
John Smith didn't stay at the Red Cross shelter last night, — he bunked at a friend's house instead — but came to the shelter this morning to find out if he could go home yet. As of 8 a.m., there was no word.
He was ordered out of his brand-new double-wide in Foley Lakes Mobile Park last night and was so flustered he didn't take the medications he needs for his emphysema and peripheral artery disease.
Red Cross water bottle in hand, he had to take a seat on the back of his truck to catch his breath.
He was angry at how little time he had to clear out, and how nobody offered to help him, "even when I told them I was disabled." But then he added, "I don't want to blame people, I'm just venting."
"Next time," he said, "I'm going to hide."
Though a law officer told him to get his medications and get out, he was so busy gathering other things he forgot them. The only medical thing he did bring was his rescue inhaler.
He said his double-wide was the best home, on the best lot, in Foley Lakes. "I'm proud of it. I worked hard for it and I had to leave it, and I don't have insurance."
READ NEXT TOP STORY: Bringing promise to softball