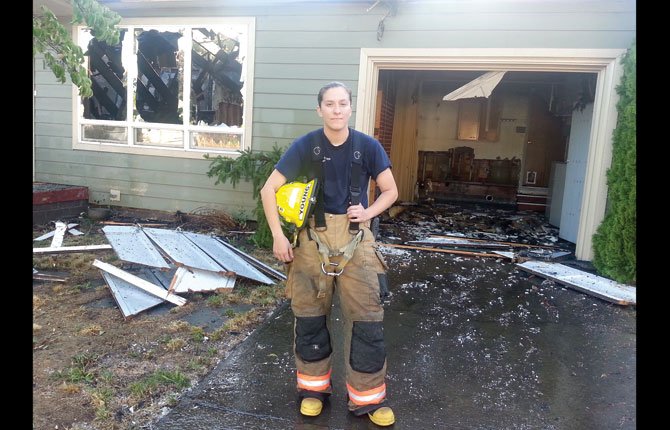 While wildfire continued to burn near the west end of The Dalles, a blaze gutted a house at 1408 Nevada St. on the east side of town.
Firefighters from Mid-Columbia Fire and Rescue and Dallesport Volunteer Fire District were called out shortly before 5 a.m. today, Aug. 7, to find the house fully aflame.
"Fire was shooting out of about half the roof," said Capt. Steve Biehn, who was the senior firefighter on the scene, "so we went defensive and didn't go inside. We risked little, but we saved little." The house was vacant at the time of the fire.
"We were lucky there were a lot of guys at the station from the other fire," Biehn said.
Thirteen or 14 of the district's 21 firefighters were at the station resting after a full day and evening of structure protection at The Dalles Country Club, which was threatened by the Rowena Fire, and many responded to the house fire.
Wednesday was Michaela Young's first shift as a paid firefighter. She's on temporary assignment with Mid-Columbia Fire and Rescue.
"It's been very eventful," Young said. "There were lots of things I experienced that I've never done before."
Among those was working on a backburn that helped protect the clubhouse at the country club and being first on scene at a fully involved structure fire.
"I've had a couple of days without a whole lot of sleep," Young said. "Everybody is tired. We've all been working hard."
Young is an EMT and firefighter.
"She's great," said Division Chief Jay Wood. "She's willing to learn. She's eager and willing to jump in and to get direction. She has a long, healthy career ahead of her."
READ NEXT TOP STORY: Fire evacuees take shelter