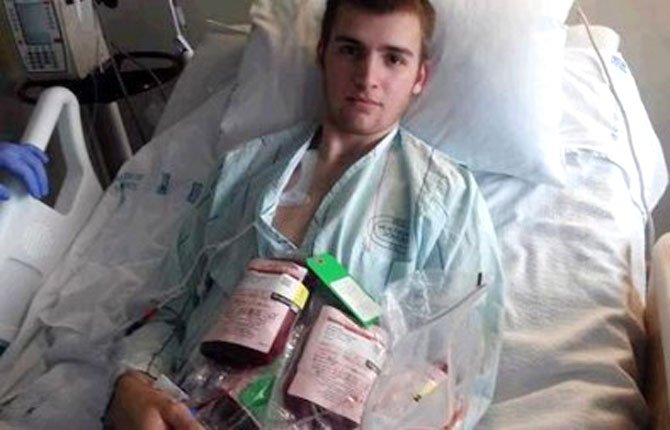 Donovan Doroski, one of the 2013 Pig Bowl recipient, spent four months in Seattle this year as he underwent a bone marrow transplant to battle Hodgkin's Disease.
The Pig Bowl returns Saturday, Sept. 20 and organizers are seeking suggestions this year's recipient and are asking people to send an email from the www.pigbowl.net website to make nominations.
Donovan's mother, Isabelle Doroski, shared the story of Donovan's experiences since the Pig Bowl.
"What a long journey it has been," she wrote. "The first few days in Seattle back in February started badly as Donovan's Jeep got stolen from the parking garage at La Quinta, where we were blessed with one week of free stay."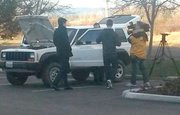 Media helped spread word of the theft.
"We think the thieves felt a lot of pressure and after taking tires, stereo, tools and all that you can imagine of the Jeep, the vehicle was abandoned in a field," Isabelle wrote. "People we don't even know offered their vehicles, they offered to take Don to his appointments. They offered a place to stay. It was just so stressful, but also so incredibly amazing to see the good in people."
Local businesses stepped up, too, offering wheels and tires.
"We even had to turn down our local Les Schwab, Nelson Tires and Urness."
Once the wheels and tires were on, another business installed sound and alarm systems. Another added a bumper and winch.
"You may say it is just a car, but for Donovan, it was his only pride and joy, the only thing that made him feel like a normal teenager.
The Doroskis found a basement apartment 20 minutes from the hospital with kind and caring owners.
"Donovan's transplant on March 19 went very well," Isabelle wrote. "They were able to collect 3.5 liters of bone marrow from Keith (his father). It was a very scary and emotional time. Words can't describe the way we felt. It was quite a tough procedure for both the donor and the recipient but nothing would have stopped my husband in order to save our boy's life."
Donovan stayed at the University of Washington for a couple of days and family members wanted to boost his morale with something special, so they brought his dog, Wyatt, for a quick visit. The only condition was that the dog had to stay in the car and could not give him kisses.
"After the transplant, Don was very tired," Isabelle wrote. "He lost his hair, his appetite and started to get some GI tract infection and an infection in his colon, as well. All is expected and is called GVHD (Graft Versus Host Disease). He is going to have to watch his body for the rest of his life as it can declare itself anytime and anywhere in his body."
Donovan and his mom drove to the Seattle Cancer Care Alliance each day for four hours of fluids, other weekly or biweekly labs, nutritionist visits and clinics with his transplant team.
"There is never a minute to sit and breathe," Isabelle wrote. "There is sanitizing all day long, preparing meals, making sure he takes his meds on time, making sure we refill his prescriptions, make it on time to his appointments and also work as much as I can remotely to keep my job; getting up every couple of hours to check on him during the night and make sure he has no temperature, give him his meds. There is also piles and piles of bills to go through and making sure the insurance pays what they are supposed to, then there is the back and forth to Hood River to take care of our house and pets and be with our younger daughter.
"There is so much, I can't even put it into words, but there is nothing we wouldn't do for our son, so it really doesn't matter…" Keith's recovery from the donor procedure took about six week. He is unemployed and lost his unemployment benefits in June.
"So we are now down to my partial income only and this is a new crisis we have to face," Isabelle said. "We do not know how we will be able to keep our home in Hood River and keep on paying our bills."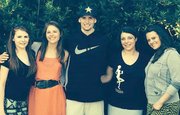 Donovan made it a goal to be in attendance for his younger sister's high school graduation and her wish was to have him there. He worked with the doctors, who were not happy about letting him go. But his improvements at the time made it possible.
"So we learned how to do his IVs ourselves and we got all the supplies and the IV pump and off to Hood River we went," Isabelle wrote. "Don's sisters flew in from Montana and Las Vegas and joined us. It was a wonderful couple of days. Julie was so thrilled, she had tears of joy."
During the four months in Seattle, when Donovan felt good enough, he researched on the computer ways to return to school. He found out he had been accepted at Eastern Oregon University, where his girlfriend attends.
"He can't wait to move to La Grande and continue his education," Isabelle wrote. Law enforcement, emergency medical technician and park ranger are some of the career choices he is considering.
Donovan had an exciting event on Father's Day weekend when Kevin Costner and his wife, Christine, flew him and his family first class on American Airlines to Dubuque, Iowa, to be part of the 25th anniversary of "Field of Dreams" in Dyersville.
"We are very grateful to the Costners for their incredible gift and for allowing us to make some new and wonderful memories together."
In late June, the Doroskis learned that the cheek swab, scan, bone marrow biopsy and skin biopsy came back negative.
"He is doing great and the doctors are very pleased," Isabelle wrote.
He was discharged June 26 and the family was able to return home.
"Thank you all at the Pig Bowl for all that you have done for us, we wouldn't have been able to do this without your great effort to raise the funds for us. We are forever grateful and we count on helping you this year and helping your raise funds for another family in need."
READ NEXT TOP STORY: What's happening from Aug. 8