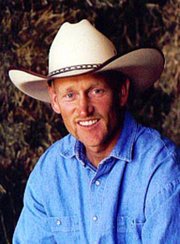 Bagge Gardens, 1805 Carroll Road, Mosier, will host a free garden gospel concert Saturday, Aug. 16. beginning at 5:30 p.m. Guest artist is Charlie Walker, one of the Pacific Northwest's top Christian Country artists. The biblically-based and life inspired songs he writes and sings make it easy for audiences to relate to him, while his melodious voice is comforting as well.
Currently residing in the high desert of Central Oregon, Walker was born and still has deep roots in the woods of western Kentucky. His love for country music and the country lifestyle began on a tobacco farm near Farmington, Ky., where he grew up singing songs such as "I never picked cotton" and "Do Lord."
Walker's musical career began in 1985 when he and a friend formed the country band "Countryfied."
Traveling throughout the northwest and beyond, Walker is experiencing a very fruitful and God-inspired ministry as he shares the Gospel through song, scripture and personal testimony.
While the concert is free, donations will be accepted. No pets, please. For more information call 541-478-3760.