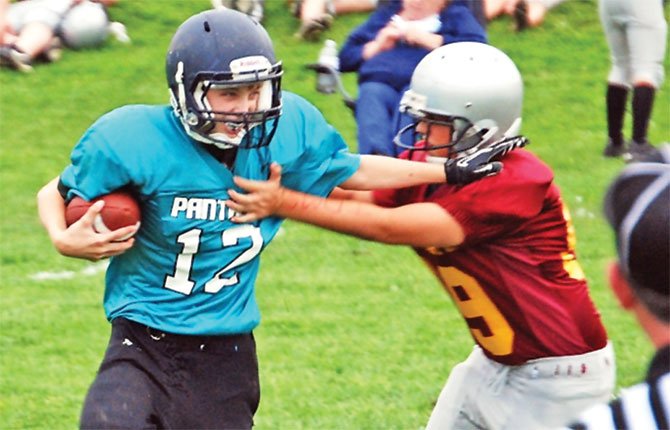 With his esteemed group of assistant coaches by his side, new The Dalles Middle School football coach Paul Beasley is jumping into the fray with both feet, infused with adrenaline and high hopes to help build a bridge of standout athletes to the varsity high school level.
Last year's seventh grade group achieved success in the middle school class and with returning coaches Chris Lente, Mark Scott and Jim Baughn, along with new voices Joe Abbas and Jermaine Hisheake, the transformation could come relatively soon.
"Chris and Joe have been real instrumental in the youth league and they are now part of the middle school staff and we are happy to have them," Beasley said. "Chris and Joe have coached these boys at the youth level, so they are going to have very good working relationship with them."
In order to do as planned, Beasley and company preach fundamentals on the field and citizenship and education off the gridiron.
He plans on instituting a mandatory study hall before each practice to make sure grades are maintained for eligibility purposes.
If the coaches can hone in on education, then half the battle is won.
As a former high school and current middle school head coach, he has seen too many student athletes fall by the wayside due to grades and their residual effects up and down so many programs.
However he and the coaching staff try to stop the process. They will turn over every stone to ensure these athletes maintain a certain dynamic towards building something special.
"We are talking about making them better young men for all of the right reasons," Beasley said of the coaching credo. "We are more than just wins and losses. Our focus is on getting the program going and emphasizing moral character."
Being around these athletes through the year and working with the middle school wrestlers and track participants, Beasley sees a tremendous amount of ability and skill at his disposal.
Last season's seventh grade group went through some ups and downs, but with the help of Baughn, Beasley pushed his focus on the trenches with the offensive and defensive lines.
Once those areas were solidified, the Wildcats saw some wins put in the record books.
"One thing everyone knows is that if you can't block, it doesn't matter what else you are doing," Beasley said. "In the second half of the season, we really took off with teamwork and getting our offensive and defensive line solid, so we could run some plays. Early on, our quarterbacks took a beating."
Just as the youth programs are doing, the middle school programs will institute the same offensive and defensive terminologies to allow a seamless transition across the board.
Much like speaking a foreign language, once an athlete can soak in and keep all of the information and allow instincts to take over, they will put themselves ahead of the curve.
More than that, however, Beasley believes that the program needs to get back to a solid core of fundamentals, like blocking and tackling safely.
That is the most important thing the coaches can give these athletes.
"If we can pass on the fundamentals, they can play the sport safely and enjoy what they are doing," the coach said. "We don't want them too bogged down with X's and O's at the expense of overall enjoyment. If we can play a fundamental style of game, they can be effective and successful."
Now that the foundation is in place, Beasley has to prepare his team for a tougher challenge in the newly-formed Portland Youth Football and Cheer Conference, which is made of schools that used to be the Portland Interscholastic League (PIL).
TDMS athletic director Lance Masters is ironing out the details on a 10-game Saturday schedule against teams like Madison, Cleveland, Grant, Franklin, Parkrose, Hood River, Roosevelt and Corbett to name a few.
"I am excited about it," Beasley said of the schedule challenge. "We are a little behind the ball at this moment, but I have faith that these kids will work hard to catch up. We had a good year last year and we really took off and ended on a positive note. It has me excited about what we can do."
Beasley announced that the middle school is holding conditioning camps from 6-7:30 p.m. on Aug. 11-15 at the middle school field just below 16th Street Ballpark.
Starting at 5:30 p.m. on Monday, Aug. 18, the football squad holds its mandatory practices.
If a player is interested in joining the football team, they need to fill out an athletic form.
Those papers can be picked up at the middle school or from Beasley.
Players also need to pass a physical. Water's Edge is offering free physicals for middle school and high school athletes on Tuesday, Aug. 12 and Friday, Aug. 15.
Parents can make an appointment by calling 541-506-6500.
To find out further details on the football team and the latest details, call 541-980-4411.
READ NEXT TOP STORY: 2013 Pig Bowl recipient completes transplant