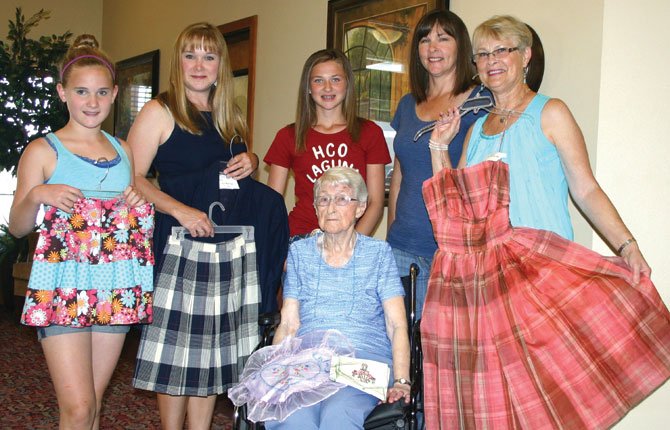 Time-worn hands smooth the delicate organza of a pink pillow cover hand-embroidered almost eight decades ago.
Around the room are other examples of 4-H projects from years gone by: a pink plaid prom dress from the 1960s, its pleated skirt spread out for display, a smartly tailored wool suit from the early 1990s, and a flirty ruffled skirt combining polka dots and bold floral fabric.
They are fruits of one family's labors through four generations of attending and competing in the Wasco County Fair through most of its history at Hunt Park in Tygh Valley. This year, the fair celebrates its 100th year at Hunt Park and The Chronicle celebrates the generations of families who have participated through that time. Fair history in Wasco County stretches back beyond Hunt Park.
"The first real evidence of a Wasco County Fair came from the files of the Times-Mountaineer, which lists the premiums and awards at The Dalles Agricultural Fair, held at the fair grounds near Dalles City Sept. 15, 16, 17 and 18, 1869," a 1968 history of the fair states.
The Wagenblast-May-Koch-Brumley clan has had regular participants at the Wasco County Fair throughout most of its modern history.
Mildred Wagenblast remembers canning peaches in the mid-1930s on a woodfire stove.
"We started working, a friend and I, and I had to can peaches for one of my projects," Wagenblast recalled, describing the venerable stove and kettle she used in the process. "Then I walked clear over to the county agent's office to turn them in because I couldn't get away from work [to go to the fair]."
She wasn't the first generation of her family to participate in 4-H. Her mother had been her 4-H leader, just as Wagenblast was a leader for her daughter, Linda May, and May was a leader for her daughter, Kim Koch, and Koch is now a leader for her teen-aged daughter, Emma, who enters the fair in baking, photography and modeling.
Another branch of the family, Tonya Brumley and her daughter, Morgan, are also regular fair participants. Morgan is entering a steer at the fair this year and also does photography. In her teens, Tonya sewed and cooked, too, but admits she doesn't have much patience for the practice today.
"I wasn't into ripping out seams," she said, "though cooking I didn't mind." Her family is in their seventh or eighth year of camping out at the fair with daughters as entrants, first Brook and now Morgan.
But Brumley doesn't deny the benefit of the 4-H experience.
"They have been working on kids for a long time," she said.
Times have changed, and some of the traditional skills, like sewing, aren't in as great a demand as in the past.
"When I was going to school, I bet I made 80 percent of the clothes I went to school in, including coats and everything," May said. Given the same amount of money to make or buy school close, May decided she could get more if she made them herself.
But today's cheap, foreign-made clothing has ended that advantage, so Emma, the seamstress in the fourth generation, says she's less inclined to continue to make her own clothes.
However, those skills still have value, Brumley said.
"My goal with my kids was to instruct them in the important basics, sewing on a button or mending," she said. "If they can do that, I've achieved my goal."
Today, May uses her needle skills for quilting and knitting. She teases Brumley about her wanting projects that don't take a lot of time.
"She doesn't understand it's a little bit of zen," May said.
"I admire people who still knit," Brumley responded, saying she'd like to learn eventually. "It's on my bucket list.
Koch, meanwhile, still sews clothing and has taken up quilting as well.
The experience of fair, perhaps more than the specific projects at fair, still benefits generation after generation and teaches skills that will benefit them in adulthood, the parents in the room agree.
"Discipline," Brumley said.
"Good sense," May added.
"A work ethic," Koch said.
"It shows what competition is like, too," May said.
"Life skills like responsibility, discipline, communication — success and failure — sometimes it doesn't work out like you'd hoped," Brumley added. Some of those lessons aren't realized until later into adulthood.
"It helps you to find how to use your head, too," Wagenblast said. "If you don't have the things [your plan] calls for, you improvise."
And perhaps most importantly, she added, "It brought me in contact with people I learned to love and to follow what they did. I must have liked 4-H, I married the leader's son."
FULL FAIR COVERAGE, INCLUDING SCHEDULE: Community page
NEXT TOP STORY: Still playing at an All Star level