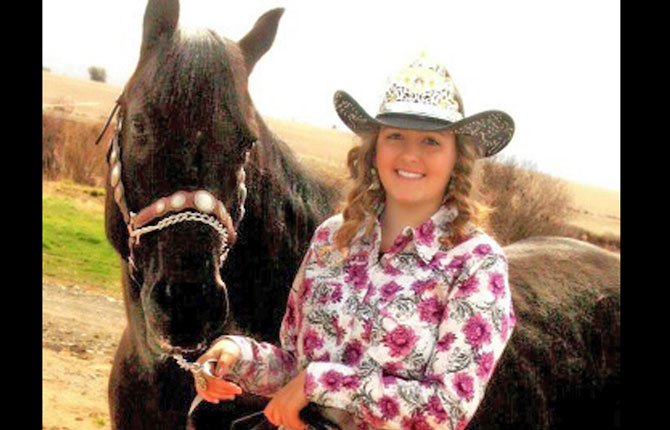 Harley Burgener, this year's Wasco County Fair Queen, encourages every family in the county to help celebrate the 100th anniversary of the fair at Hunt Park from Aug. 14 to the 17.
Burgener, a 16-year-old rodeo enthusiast, said she can't remember a day when loving and caring for animals wasn't a huge part of her life.
"I've been riding horses practically since I was born," she said. "And when my crown is off, I spend most of my time doing chores for them. We keep dogs, rabbits and chickens, too—so I stay pretty busy and only get to sleep once all the work is done."
The bond between herself and the animals she's trained is particularly special to her. Foxy, her red roan mare, almost always accompanies Burgener as she goes about her queenly duties.
"I bought Foxy with my own money when she was a yearling and raised her and trained her as my own," she said. "We've gone through everything together and she does her job beautifully — to do whatever I ask and to do it well."
Burgener and Foxy have grown up together as they've progressed from one competition to the next.
"At fair, my favorite class was showmanship, and Foxy and I took grand champion two years in a row. I even got to be in a round robin once, where two kids show animals from each livestock category and you're judged on how well you pull it off — it's the ultimate in show competition."
Overall, she said Foxy has been a fantastic partner throughout her rodeo career. "She can occasionally be stubborn unless it's her idea first," Burgener admitted with a laugh, "but other than that, she's wonderful."
For horse and rider, the queen title means attending a different rodeo every weekend. And whether it's appearing at after hours business meetings or visiting area grade schools, Burgener said it's a valuable learning experience.
"I get to represent a great organization and meet lots of new people, see new places and have fun — that's the main thing," she said, smiling. "I love getting to know all the different personalities, especially the kids! Introducing them to what rodeo's all about and inviting them to my fair is always fun." At first, Burgener said she had no idea what to expect in her new role as Queen.
"It's definitely been a big responsibility to take on," she said. "But I honestly wouldn't trade it for anything. Parades are the hardest thing — they're long and hot and sometimes I feel like I've had a smile glued onto my face for the last five hours. At the Rose Parade, we rode 14 miles on horseback through Portland over TriMet tracks and everything. Foxy was totally great the entire time, of course," she laughed. "I was the one who couldn't move afterwards."
Tipsy, Burgener's one year-old Australian Shepard mix, is her constant companion on many of her journeys. "I take her to every rodeo and everywhere I go, she's right there with me," she said.

Her title, which began in January and extends until December 2015, she hopes will be the start of a long and exciting career in the world of rodeo royalty.
"I'm the type of person that wants to try everything at least once and to experience as much as I can, so this has been just perfect for me. I love it, it's so worth it and I'm definitely going to try out again."