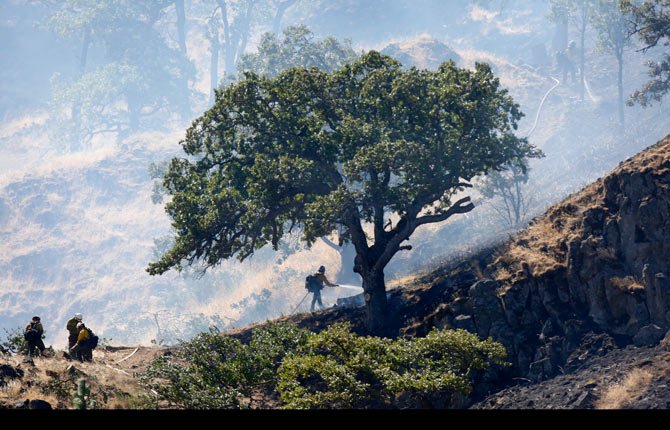 Containment on the Rowena Fire grew headed into weekend firefighting from 35 to 55 percent, following a day of burnout operations Aug. 8.
All evacuation levels were moved to a level 1 or "get ready" level, but Highway 30 remained closed to thru traffic Saturday morning.
"There are some concerns about falling rocks and snags above Highway 30," said Cynthia Orlando, fire spokesperson, adding that conditions will be examined throughout the day. "We just want to be careful. The slopes are pretty steep and stuff rolls down. I think that's the thinking."
Some firefighting crews will be demobilized today as the rest continue to do mop-up and watch for hot spots, Orlando said.
"We want to remind the public to be careful because of all the traffic that comes into the gorge area on the weekend," she said. "Be mindful of your personal safety."
Also be mindful of the extremely dangerous fire conditions, she said.
"The slightest spark from a cigarette or power tools can start a fire, things are so dry."
Though it might be tempting to pull off the road while sightseeing, be mindful of dry grass when parking. Hot vehicle undercarriages can also spark a fire.
Crews from the Oregon Department of Forestry and Oregon State Fire Marshal's Office worked throughout Friday to conduct burnout operations and improve containment lines.
No structures were lost during those operations, which focused on burning off dry fuel and creating defensible space around homes and outbuildings in Rowena.
Despite a Red Flag Warning and high winds, incident commanders were pleased with the progress crews made on the fire lines Friday.
"We have gone hard at this fire for all the right reasons," said Oregon Department of Forestry Incident Commander John Buckman. "We turned the corner today and things are looking much better."
In an ongoing effort to protect structures, firefighters used thermal imaging cameras (TICs) to identify hot spots on properties where the fire has burned a path up to the structure and then extinguished them.
A total of 740 residences remain threatened at this time. The Wasco County Sheriff's Office and incident commanders are evaluating the ongoing need for evacuations and will begin allowing residents back into their homes as soon as it is determined that it is safe for them to return.
Total residences impacted by the evacuation orders remain unchanged since this morning's release and include 143 Level 3 and 597 Level 1.
An evacuation shelter has been set up by the Red Cross at Dry Hollow Elementary School at 1314 E. 19th in The Dalles.
READ NEXT TOP STORY: Firefighters respond to Chenowith fire