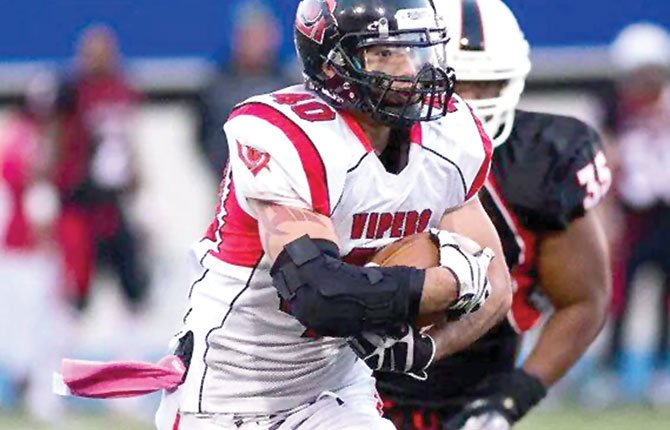 With every passing year, The Dalles Wahtonka graduate David Saylors is still operating at peak level on the gridiron, he loves to call his second home.
While playing on a semi-professional football team, out of the Vancouver, Wash. area, Saylors racked up a combined 850 yards and helped the Clark County Vipers double their win total from 2013.
On an offense that scored 156 points in 10 games, Saylors dazzled on the gridiron with 650 yards rushing and five scores, and in the aerial game, he notched 200 receiving yards and another touchdown to lead the South Division running backs.
With those numbers, Saylors earned his second consecutive Pacific Football league first-team nod and an invitation to play in the Pro Bowl.
"It feels good to be recognized. Just wish we could have won more games," Saylors said. "I would trade in all the stats to get to the playoffs."
It appears that Saylors is definitely rounding into top form on the gridiron with more experience playing with and against an older, more grizzled group of athletes.
In 2013, from the fullback position, Saylors averaged 20 yards a catch and 70 yards a game for an offense that scored 109 points in 10 contests.
Coming straight from an all-league senior campaign at The Dalles Wahtonka High School, where he finished with 301 yards on 75 rushes and three scores, Saylors admitted that he was unsure how he would fare against an older, more experienced age group.
"I didn't think I would do so good, but I came in really strong and just played like it was any other football game," he said. "I didn't let myself get intimidated."
Just as with anything else, progress should be looked at in the bigger picture.
In 10 games, the Vipers won twice, taking a 19-7 winner over Puget Sound on April 12, and scoring another lopsided victory, 58-6, over Roseburg on June 14 in a contest played at McKenzie Stadium.
Yes, the Vipers lost eight games, but the win totals increased and so did the scoring by 47 points.
The league is comprised of 10 teams spanning from Oregon, such as Portland, Southern Oregon and South Lane and Washington towns like Yakima, Bellingham and Grays Harbor. This year, the Portland Raiders completed dominated the competition with a 12-1 record on their way to a PFL championship, a 30-27 triumph over the South King County Colts on July 26 at Pioneer Stadium.
Although he is a few years removed from graduation, Saylors still enjoys the spirit of competition on the gridiron.
He made some friends, made plays and had plenty of wins, losses and some trials and tribulations.
There is nothing to replace the adrenaline rush of the physicality of the sport, under the crisp skies and warm sun, in front of loud cheering fans.
One of the biggest differences for Saylors was the fact that he did not get to experience this season with his older brother Zach, a 2007 TDW graduate.
Zach is a two-time all-league winner, taking second-team recognition in 2013.
"I still wanted to play," Saylors said. "I love the game too much not to want to be out here."
Even after his PFL season was over, David could be seen on Amaton Field playing linebacker and running back in 7-on-7 scrimmages with the incoming Riverhawk varsity football team.
He loved playing alongside his former teammates Kevin Henderson, Duncan Locicero, Alex Cady, Chaise Shroll and Zach Nerdin.
"They will always be my teammates. Miss playing with them," David Saylors said.
Still trying to find a place to play collegiately, David is still working, trying to save some money to make the next jump.
The notion of college ball is still within reach and the dream remains alive and well.
"We will see what happens. I still feel like I can play well wherever I go," David said. "I don't think I can give up on my dreams. Anything is possible as long as I can keep working hard."
David still has plans on taking courses in secondary school education, where he eventually wants to become a (high school) gym teacher.
To find out more about the PFL, to coach or to join, go to the website at www.pacificfootballleague .com.
MORE SPORTS: Sports
READ NEXT TOP STORY: Editorial: We love fire personnel