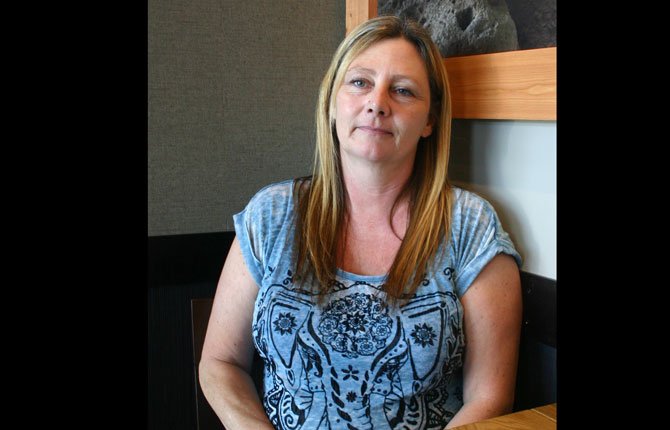 How to help
An account has been set up to help the Pincock family at the Rivermark Credit Union under the name "Pincock Rebuilding Fund."
Having your house burn to the ground never comes at a good time, but the fact that the Rowena Fire came just shortly after Jennifer Pincock and her family finished remodeling her Foley Lakes home was like adding insult to injury.
The manufactured home burned the afternoon of Aug. 7, the day after firefighters had successfully defended the house and hundreds of others from the raging blaze that swept across the high ridge between Rowena and The Dalles, then roared down the hillside toward town in full view of local residents. Different estimates suggest the fire covered between three and five miles in just three hours.
"There's really not an awful lot left," Pincock said Saturday during an interview at Starbucks.
Pincock owned her home outright. She had purchased it for $20,000 in 2008.
"It's everything I had worked for my entire life," she said. "My home was paid for and we were slowly fixing it up. We were pretty much done."
Among the recent improvements were a 34-foot deck the length of the house, an air conditioned outbuilding that served as her 18-year-old daughter's bedroom, a new roof, new windows and new paint and décor in the daughters' bedrooms.
"I had probably put $10,000 to $15,000 more into it," Pincock said.
Though they are homeless now, all the people who live in the house, Pincock and her two teen-aged daughters, plus two dogs and a cat, escaped safely. They were evacuated Wednesday, but when the evacuation levels was reduced Thursday morning, Pincock's eldest daughter and her boyfriend had returned to the house to see what they could salvage. They were the ones who reported the rekindled fire.
On Friday, while the whole family went through what little there was to salvage, they found one other small survivor: A betta fighting fish, one of two fish the family owned, also survived the fire.
"We just assumed the fish were dead, obviously," Pincock said, since they hadn't been able to remove them in the face of the fast-moving fire.
Pincock thinks it is because, in addition to gills, bettas have a second respiratory system and are known to be able to survive outside water for long periods of time.
"We call him Fireball now," she said.
The enormity of what has happened to her family hadn't quite sunk in over the weekend, Pincock said. "I'm still in shock."
As a woman who has prided herself on being self-sufficient since she started working at the age of 17, even in the face of hardship, Pincock said it is hard to seek out help from the community. Her oldest daughter, who starts college this fall at Columbia Gorge Community College, has encouraged her to seek help from the American Red Cross.
The family has been no stranger to tragedy. Both Pincock's son and fiancé died suddenly in recent years. Family members were able to rescue their ashes before the fire. Two months after her fiancé's death, Pincock lost her job of five years. Some of the family members are struggling to cope with this latest loss.
Pincock also suffers lingering pain from an earlier auto accident.
"I've had no health insurance the last five years," she said. "In January I finally got health insurance through the new Obamacare and have been able to get my teeth cleaned and start going to the doctor."
An account for those wishing to help the Pincock family has also been established at Rivermark Community Credit Union in The Dalles under the name "Pincock Rebuilding Fund." Because the house was paid for and Pincock is the sole bread-winner, the house was only minimally insured — enough, she said, to pay for the site clean-up.
Pincock is employed at The Barbecue Restaurant on the day shift three days a week and was back at work the day after the fire. She said she was met with a lot of sympathy from her regular customers and "a lucrative day in tips."
"It really renewed my faith in the goodness of people — and not just because of the tips," she said.
The family has been able to salvage some documents and keepsakes that were in a chest at the home. The eldest daughter's outbuilding was relatively unscathed, so most of her possessions are intact. However, the youngest daughter, 14, didn't fare as well. Virtually all of her possessions were destroyed including a computer and video game console and all of her clothing. She escaped with only the clothes on her back and a pair of flip-flops.
She wears a junior size 1 or three in bottoms, a medium in shirts, and 7½ in shoes. She has none of the fall school clothes — winter boots and jacket — that most students are returning to school with, and no school supplies.
As she enters The Dalles High School this fall, she is without almost everything she needs to start school.
Pincock herself was able to draw on clothing that had been set aside for a yard sale, but still needs work clothes and work shoes. The family also needs food, leashes and other items for the pets, plus furniture — they will gratefully accept second-hand — for when the family does finally secure housing. They will soon have access to a storage facility where they can store items until they secure housing.
"Right now we have no home and no place to put anything," she said.
Anybody who wants to reach out to the family with help may do so through Pincock's oldest daughter, Cecilia, at 541-993-8596. Or they can stop by The Barbecue from 7 a.m. to 2 p.m. Monday, Wednesday and Friday when Pincock is working.
READ NEXT TOP STORY: A rollicking weekend