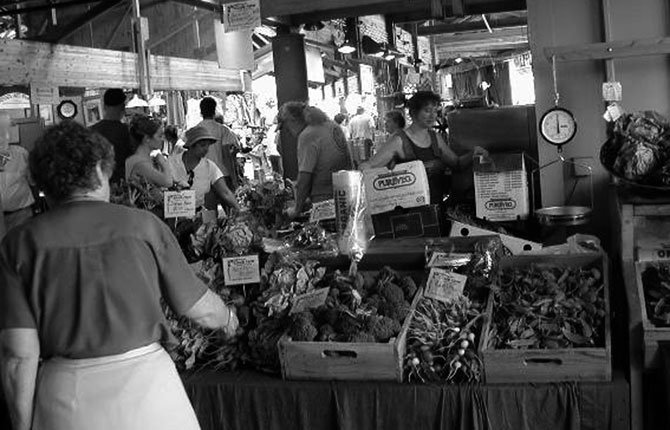 The U.S. Department of Agriculture recently reported that participants in the Supplemental Nutritional Assistance Program (SNAP) can now purchase fresh fruits and vegetables directly from farmers through more than 5,000 farmers markets, roadside markets and pick-your-own operations across America.
That figure includes Oregon farmers' markets in the Columbia River Gorge.
The Dalles' Saturday farmers market, Hood River's Thursday and Saturday Markets, the mobile market in Moro (Sundays from 9 a.m. to 1 p.m. at the park) and the new Mercado del Valley in Odell all take SNAP benefits, better known as food stamps.
That's good news for households with low incomes, both working and not. In 2008, the number of places taking benefits was just 753.
It's also good news for small farmers across the country who shared in more than $21 million in revenue from SNAP purchases.
"On average, about 20 cents of every SNAP dollar spent on food ends up in the pockets of American farmers, allowing families in need to buy food directly from local farmers provides a boost to local economies," USDA Under Secretary Kevin Concannon said. "American farmers offer a bounty of fresh fruits and vegetables that are the foundation of a healthy diet, and USDA has made it a priority to improve direct access between farmers and SNAP participants over the past several years." These foodstuffs get to market more quickly than most fresh produce in large supermarkets, which may be shipped across the country or around the world over the course of days or weeks before reaching market. That means they are able to retain higher levels of vitamins and minerals.
In most cases, the sooner produce moves from farm to table, the more nutrition is retained.
Usually, locally grown produce also has the advantage in flavor. Often vegetables and fruits grown for large markets are bred with shelf life and visual uniformity for display as priority factors. In some cases, that means a sacrifice in flavor.
Compare a "vine-ripened" tomato from the supermarket with one directly from the garden to taste the starkest contrast. The home-grown version wins every time.
Access to fresh, flavorful food can have a significant health benefit.
Learning to eat healthfully reduces health risks later in life, which helps reduce the nation's health costs over the long run.
Another factor that could provide an overall health benefit is a return to teaching basic home survival skills like home-cooking.
In many cash-strapped middle and high schools, home ec classes have gone by the wayside. And the tradition of passing on those kinds of skills generation to generation is significantly less prevalent than in the past.
But these are the kinds of skills that help people maintain a healthy diet at a lower cost.
Affordable access to fresh produce and protein sources is vital for helping make available regular meals that are both affordable and nutritous, rather than just subsisting on the often empty calories of processed food.
READ NEXT TOP STORY: Letter to the editor: Thanks, neighbors