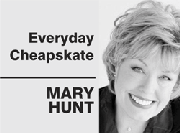 My frugality philosophy is that I scrimp like crazy on things that don't matter to have the money for things that do. Makeup is important to me. I'll forego other things that aren't that important to me so I can afford quality makeup.
For years, my makeup of choice has been M.A.C., sold online, at cosmetics counters in high-end department stores and in exclusive M.A.C. stores, worldwide.
My big news is that M.A.C. and I have parted company. It's taken a while, but with considerable research and many trials (and errors), I have now replaced each of my M.A.C. items with a drugstore product. My criteria was that the replacement had to be cheaper, but of an equal or better quality.

While my new choices are available in drugstores such as Walgreens, CVS, Rite Aid, Target and Wal-Mart, I order online. I can get everything at Amazon, in one order. And I find that Amazon's prices are very competitive, if not cheaper. This just works for me because not every drugstore or discount store carries every brand. For specific links, please visit everydaycheapskate.com/mac.
Foundation. For years I've used M.A.C. Studio Fix Fluid ($27) in color C3. And I've found an alternative that I like so much better — Revlon Colorstay Whipped Creme Makeup. Color 250 (Medium Beige) is a great match. It has full coverage, it's lightweight and just plain amazing. I like it a lot better than what I have been using. About $10.
Pressed Powder. I've replaced M.A.C. Studio Fix Powder color C3 ($27) with Physicians Formula Magic Mosaic Pressed Powder. It is light, glides on and doesn't get clumpy-looking during the day. Love it. About $15.
Primer. I got hooked on M.A.C. Pre + Prime Skin ($30) primer because it improves the laydown and application of foundation and powder. My new primer is not actually sold as a makeup product, but it is an amazing gel that doubles as a fabulous face primer. You have to trust me on this — I would not lead you astray! Monistat Chafing Gel is outstanding and outperforms any primer I know. Amazon, about $10.
Eyeliner Pencil. I've replaced M.A.C. eyeliner pencil ($16) with Prestige Waterproof Eyeliner. It is smooth, glides on better and, unlike my previous choice, it is waterproof. About $6.
Mascara. M.A.C. Studio Sculpt Lash is excellent at $16. But I've switched to Loreal Voluminous Mascara, which is an excellent alternative. About $6.
Lipstick. This is a biggie for me. For years I have worn M.A.C. lipstick in color Sequin ($16) and hesitated about making a switch. But I have. My new lipstick of choice is L'Oreal Paris Colour Riche matte finish in 560 Saucy Mauve. About $6.
Overall, I figure that I've cut the cost of makeup by more than half, without making any sacrifices. I couldn't be happier!
Mary Hunt is founder of www.DebtProofLiving.com.
You can email her at mary@everyday
cheapskate.com, or write to Everyday Cheapskate, P.O. Box 2099, Cypress, CA 90630.