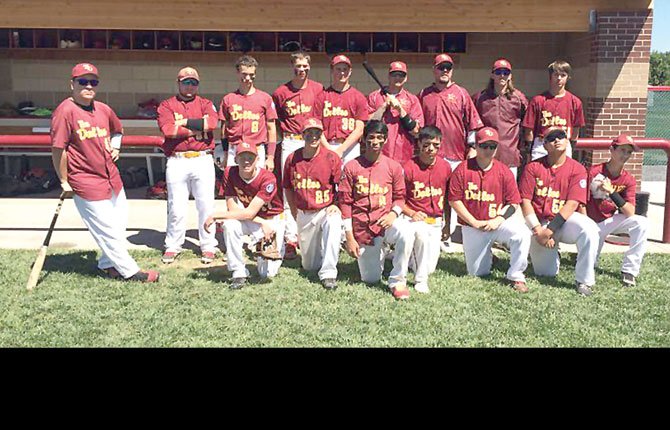 Through a memorable summer baseball season, The Dalles 15U Babe Ruth All Stars can walk off the field one final time with their heads held high.
So much was accomplished by this group of athletes that grew in so many ways.
The Stars started out the campaign with 14 consecutive wins and even locked horns in exhibition matchups against 19U teams, going 29-6 overall.
Saturday, the District 5 and North Oregon State champions lost 11-4 to South Washington to end a classic playoff run to cap an 11-2 postseason.
"It was just a blast to see their improvement at the competitive level," said head coach Sean Herriges. "They really improved it. Their refuse-to-lose mentality, they didn't accept losing and winning was contagious. They just stepped up because all they wanted to do was win. The pride that they had in their record and the pride that they had in dominating teams, they walk away from this with great memories."
From initially wanting to hang up his hat for good after a tumultuous 2013 Babe Ruth campaign, Herriges' crew came back hungrier and more mature.
At districts, The Dalles outscored both Pendleton and Clackamas in three games, 16 innings, by a 39-1 margin, while rapping out 26 hits earned them a first-place trophy.
That tremendous roll continued at the state tournament in Ontario, where in 37 tournament innings played, The Dalles outscored its opponents by a 67-12 margin and had 53 hits.
The pitching staff gave up 12 runs on 19 hits and fanned 33 in that same span.
This past weekend, TD won 16-11 over Union County and lost 5-0 to Idaho in its first two regional tilts.
Friday night, Wyoming and TD engaged in an 11-inning classic that ended after more than three hours late into the night with an 8-7 triumph.
All The Dalles needed was a win Saturday against South Washington, but a four-run sixth inning broke open a 7-3 lead in a season-ending loss.
The loss not only ended a standout run for the summer season, but capped the Babe Ruth careers for Denzel Arellano, Boston Bate, Johnny Miller, Dylon Jinkins and the rest of the team.
Added to that, Herriges decided his reign as coach was completed.
In his illustrious career, Herriges won five little league championships and tacked on Babe Ruth accomplishments this year.
"I am going to walk away from a 19-year coaching career," Herriges said. "I didn't get to win a World Series, but winning a state championship and going 2-2 at regionals is the next best thing. It was the most memorable season that I have had in a long time. That is saying something. To end it with what these guys were able to accomplish this year, leaves a smile on my face. I am just so proud of them."
Herriges plans on continuing his coaching in a different capacity in the future working mainly as an assistant.
The long-time coach and mentor wants to use his time off to spend more time with his wife Brenda, float the river for some salmon fishing and get some relief from the rigors of coaching.
He takes with him many great memories and moments, but one of the greatest highlights is being around a group of parents who were supportive and positive through the years.
"Once we got to the tournament, I turned it over to the two team moms, my wife Brenda and mama (Crystal) Bate," Herriges said. "They kept things organized with meals and entertainment, water in the dugout. They took a lot off my plate. All I had to do was go to the dugout and manage. It takes everyone for the success of the team and it showed."
There are many aspects of coaching Herriges will miss, but tugging at his heartstrings is the fact that he was a centerpiece of the maturation process of these athletes when they were between the ages of 9-15.
They are all his kids now and nothing is going to change that fact, he said.
"I walk away knowing that this is family for life," Herriges said. "These guys can always come to me with anything. These are kids I helped raise. Kids that I pushed athletically, challenged mentally and worked with technically. I can feel proud of that accomplishment. I will miss this group. They made coming to the field a fun experience. I have nothing but the fondest memories with this group." Herriges now steps aside to enjoy the final few years, as the names head to high school athletics and American Legion ball.
He has done everything to equip this bunch with all of the tools necessary to tackle this next phase in their lives.
"They are blue collar. They show up to work hard and do what you ask. They want to win and are willing to do whatever it takes," the coach said. "This team has the ability to compete at the highest level in high school. It wouldn't surprise me at all if this core did win a state championship at the high school level. They have that type of ability."