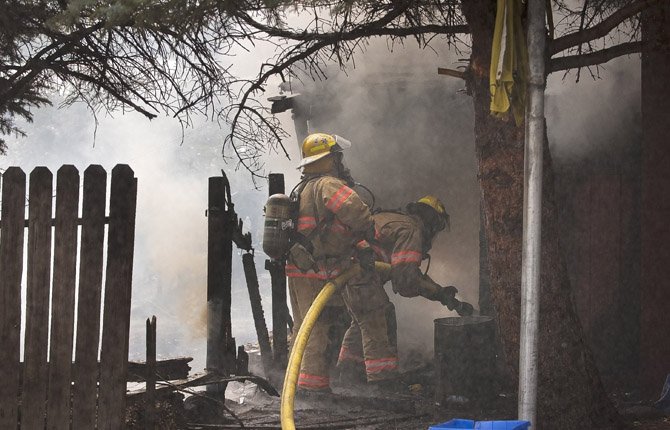 Arson is suspected in a fire in an unoccupied building at 806 Garden Court and the property owner's son has been jailed for arson.
Property owner Henry Earl Benson's son, Henry Russell Benson was arrested for first-degree arson at the scene by The Dalles City Police around the time of the fire. He is lodged at the NORCOR regional jail.
Theresa Vance, who lives several houses down, said it was common knowledge among those residing in the area that Benson suffered from some form of mental illness.
"He's mentally gone," she said. "He lost his brother two weeks ago, and ever since he's been way, way out there."
Vance said she was on the scene because her neighbors told her Benson had threatened to burn down the entire block.
The younger Benson's father said his son was trespassing on the property at the time of the fire.
"I guess he was seen in my backyard with a garden hose trying to put out the fire before he was arrested," he said. "I was on my way home when I saw the smoke — it was black, not gray, so I knew it wasn't coming from a grass fire. Then an officer told me at the road block that my house was on fire."
He confirmed that his other son had died in July.
Chief of Police Jay Waterbury said the incident is under investigation. According to Mid-Columbia Fire and Rescue Chief Robert Palmer, the origins of the fire also remain unclear.
"We were called to an unoccupied structure fire, and when we arrived, that's pretty much what we found," said. "The fire was already well involved when we got here."
Palmer said the process of "knocking the fire down" was fairly straightforward and quickly accomplished. The single-family dwelling, he added, didn't have electricity or any other services connected to it, further simplifying matters.
Responding agencies also included the Dallesport Fire Department and the Wasco County PUD.
READ NEXT TOP STORY: Starting new year with a clean slate