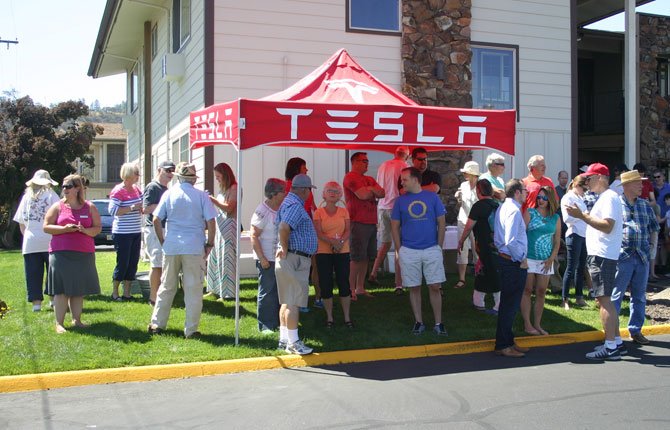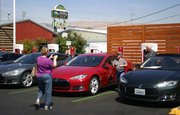 As if a wildfire, classic cars and a good old-fashioned threshing bee weren't enough, Wasco County was invaded Saturday.
By Teslas.
About 40 Tesla owners converged on Cousins Country Inn to celebrate installation of a bank of Tesla super charging stations just outside the swimming pool off the Ash Street entrance. The unique electric cars pulled in and out of the charging stations throughout the day and were parked all over the neighborhood for the dedication event.
The bank of a half-dozen charging stations required Northern Wasco County People's Utility District to substantially beef up the Cousins power feed with a 500 kVa transformer and a 12.5 kV feed.
The owners came from all over the Pacific Northwest to be among the first to try out the bank of chargers. Tesla has been busily adding a web of charging stations around the country.
"Tesla customers are asking for more charging stations so that they may be able to travel with their families, etc.," explained Case. "Tesla has many strategically placed charging stations across the country, but is now working to fill in, so that their customers are able to take trips."
Tesla has fewer than 10 supercharging stations around Oregon and Washington. The closest are in Woodburn, Centralia and Ellensburg. Most are along the I-5 corridor. The next-closest station heading east is in Ritzville, Wash.
Owners of the vehicles, on hand for the dedication were happy to talk about their vehicles. Owners estimated the cars get between 240 and 260 miles per charge.
"We love our cars," said Andy McConnell. "I haven't had to pay a dime for oil since I bought it."
Owners also praised the high safety rating of the cars.
The company is rolling out two new models, an SUV-style vehicle and a sedan at a lower price point. The company has started its own battery factory as part of the strategy to lower the price for the new model.
READ NEXT TOP STORY: Ursprung joins Port of The Dalles in marketing role