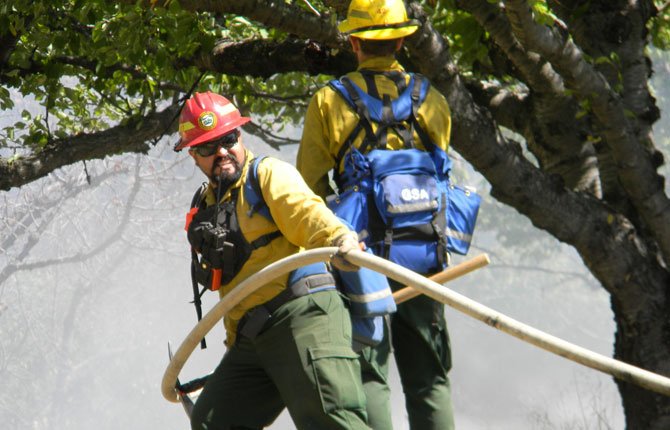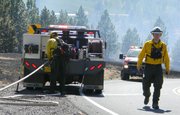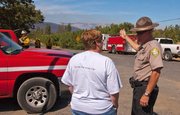 Engines roared down Chenowith Road early Friday afternoon in a race against time to snuff out flames that had swiftly taken hold of trees, grass and structures nestled at the Browns Creek Road intersection.
Firefighters tromped through grassy orchards to douse runaway flame trails with jets of water as others raced by in trucks to the source of the blaze at the bottom of the hill. Some were barely visible through the smoke that hung thickly over the scene.
Tracee Sallee, whose parents reside on upper Chenowith Road, appeared worried as she paced back and forth along the side of the road at incident command.
"We have a ranch, three homes and all of our cows and horses down there," she said. "No one was home as far as I know."
Charlotte Dupree was also on scene. Her boyfriend, Ed Sallee, is a resident of Chenowith Road. She said he had just invested in property in the area.
"It is what it is," she said with a shrug. "Of course I have personal property of my own down there, and we have some cattle that graze up on Government Flat, but you think I'm risking my life for those and a few horses?" she said. "If we lose some, we lose some. There's no need to panic. It sounds like everyone's safe."
Dupree said at least five families she knew of lived in the area of the fire.
"There are definitely more dwellings down there than that, though," she said. "Because that's not even counting all the renters on the property."
She said she found it a bit ironic she'd undergone wildfire fighting training two years ago and had "taken her name off the list" just last year.
"It's just one of those things," Dupree said calmly. "Ranchers tend to pull together and do what they can to help each other out… So if you've at least got insurance, there's really not too much to worry over."
When help arrived, Mid-Columbia Fire and Rescue Division Chief Dan Hammel said it was so chaotic, "everyone started doing everything at once."
"When I arrived on scene, there was fire on all sides down here, so our immediate objective was to start deploying resources as quickly as they arrived," he said. "Life safety was our number one priority."
Hammel said everyone who had been at home at the time of the incident appeared to have been safely removed from danger. As of 3:25 p.m., no injuries or loss of life had been reported.
Two helicopters were called in from the Oregon State Department of Forestry to provide aerial support with huge bucketful's of water drawn from nearby sources.
"One concern we had going in was that the fire might climb its way up to Cherry Heights," Hammel said. "But thankfully it seems like we've got it under control." By around 3:20, the blaze had quieted and much of the smoke had cleared from the area. The cause of the fire remains under investigation.
According to Hammel, one task force was released from the Rowena fire in order to help fight the one which had so unexpectedly come to life along Chenowith Road.
"It all happened so fast, everyone was doing everything they could to knock it down right from the start," he said. "And we all came out equipped and ready to do it."
Other responders, Hammel said, included forces from the Hood River Fire District, Dufur, Columbia Rural and the National Forest Service.
READ NEXT TOP STORY: Four generations of fair