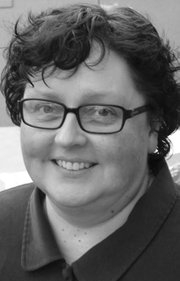 The Dalles native Kathy Ursprung joined the Port of The Dalles beginning Aug. 11 as the new marketing and communications specialist.
Ursprung's top priority in coming months will be to market the Chenoweth Business Park, a new 26-lot business and industrial subdivision located on almost 90 acres along the Columbia River waterfront in The Dalles, Ore., 80 miles east of Portland.
"I'm excited about coming to the Port at this time in its evolution," Ursprung said. "The Chenoweth Business Park is due for completion in October and will provide certified shovel-ready building sites that can be tailored to the diverse needs of business and industry today. They will have all the amenities businesses need and want, not least of which will be the stellar scenery at the eastern mouth of the Columbia River Gorge. I will work hard to help the Port team bring new business, and most importantly new jobs, to The Dalles."
Ursprung has a long history in the communications field. She was the first woman managing editor of The Dalles Chronicle and has been in that role eight years. In all, she has an accumulated 23 years of experience in print and broadcast media in the gorge and Portland area.
Before making the leap to journalism, she worked for 10 years at major banks in the Seattle area, largely in corporate communications and technical writing.
"Kathy's enthusiasm for the community and business development, combined with her marketing and communication background will be great assets for us," said Andrea Klaas, executive director of the Port of The Dalles. "The construction phase of the North Chenoweth project is well underway, and now we need to get the word out that there are business opportunities in The Dalles. We will also be identifying ways we can support our existing businesses, and Kathy already has a few ideas she is working on. It's an exciting time for the Port and the community, and I'm very happy that Kathy is part of the team."
Ursprung said she moved back her hometown to raise her daughter in the close family and community environment of a small town.
"The Dalles combines the best of both worlds," she said. "The town has more amenities than might be expected of a small town. I think that's because, as it has been for thousands of years, it's a crossroads for regional commerce."
For her first few weeks on the job, Ursprung will divide her time between the port and her role as managing editor of The Dalles Chronicle. This will allow a more orderly transition for her previous employer.
Ursprung can be reached at the Port of The Dalles by phone at 541-298-4148 ext. 202 or by email at kathy.ursprung@portofthedalles.com.
Online:
www.portofthe dalles.com
READ NEXT TOP STORY: What's happening from Aug 13