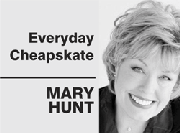 Dear Mary: Our 15-year-old daughter recently got her learner's permit. I called our auto insurance agent about how to handle this and she told us to add our daughter to our policy, which we did. Then we got a bill for an additional premium and paid the bill.
Later, we heard that a teen driver with a learner's permit is already covered under a parent's (or guardian's) policy.
Do you think we are being charged an additional premium for coverage we have already? I can't seem to get a straight answer from the company. — Barbara, California
Dear Barbara: According to the Insurance Information Institute, most insurers extend coverage for learners on the customer's existing policy. However, this is not required by law, so it is difficult to say if your company does or not. However, if they are vague when you inquire, I'd be a little suspicious, myself.
If you think you are being overcharged, ask the company to provide you with a copy of its underwriting policies so you can read them for yourself. If they are unwilling to do this, I believe I would contact my state's department of insurance for assistance. If you find you've been overcharged or feel you've been ripped off, contact your local Better Business Bureau as well.
On the other hand, if you find out that your company is unique in that it does not cover youthful learners on your existing policy, you should shop around before your next renewal.
My thought would be that if they are not competitive in this one area of coverage, are they failing to give you the best rates in other areas as well? The only way to find out it is to look around and ask a lot of questions.
Dear Mary: Just a quick note to say thanks for your advice and research. I am not?fastidious about clean carpets, but you sold me on the Hoover Steam Vac (everydaycheapskate.com/steamvac).
My husband and I own a condo that we rent out to folks in ministry, at a reduced rate. That means we don't have a lot of money available for upkeep and maintenance between occupants.
In getting the place ready for the next occupants, I decided to order the Hoover Steam Vac and give it a try on the carpet following your specific instructions. It was fun because of your advice, method and your excitement about this particular machine. The condo carpets look fabulous! So I brought the machine home to clean my own carpet. I made a schedule and am cleaning the whole house in sections.
Keep up the good work. You are way better than Consumer Reports! — Shawn, California
Dear Shawn: I'll take that compliment any day of the week. And I'm happy to hear that Hoover worked as well for you as it does for me. It really is the best thing I ever bought.
Mary Hunt is founder of www.DebtProofLiving.com, a personal finance member website.
To find out more about Mary and read her past columns, please visit the Creators Syndicate Web page at www.creators.com.