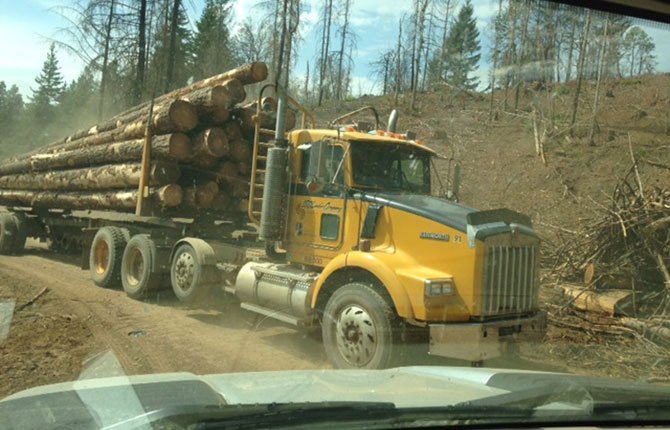 It's 4 a.m., and you're tucked in bed "sawing logs," but SDS Lumber Co. is up and at 'em, sawing logs for real, clearing a patch of timber burned in last year's Government Camp Fire Complex.
For the first time in what seems like years, people have noticed log trucks going through The Dalles. To date, some 1,200 truckloads have left the Upper Mill Creek logging site, headed for the SDS Lumber mill in Bingen.
But with their workday starting at 4 a.m. — they have to finish by 1 p.m. because of fire restrictions — the objective is for most of those to slip down Mill Creek Road and through town unnoticed, said Jason Moon, management forester for SDS.
About 500 more truckloads remain before the operation wraps up in about a month.
The lightning-caused fire of a year ago, actually started on SDS of roughly $1.4 million, Moon said.
It's critical to harvest burned timber as soon as possible, Moon said. "It not good for the stands themselves, the environment or even the wildlife," he said.
"As far as the merchantability and marketability of burnt wood, timing is everything in that the quicker you can get it to market the more beneficial it is for the landowner," he said. "So our goal last year was to get the stuff out that burned hot and basically killed the tree in its entirety."
Last year, some 47 acres of mature trees, which were about 50 years old, were harvested. "All of that stuff came into our own mill. It's kind of tough around here to sell it but … when it's our own land we don't have many options."
"It's a lot more costly to process the log and try and remove all of the black out of it, the char," he said. "You can't sell black wood as chips," he said. SDS has a chip yard, and the chips are outsourced to another manufacturer, where they are turned into paper products.
"The biggest part of what we do at [SDS Lumber] is cut dimensional lumber and plywood," he said.
Salvage work stopped late last winter — the work is required to be seasonal to protect roads and waterways from erosion in wet weather — and started again in late May, Moon said.
The 300 acres to be harvested are spread over various spots, said Chet Behling, stewardship forester for the Oregon Department of Forestry, which issued the permit for the logging operation.
The burned stands include ponderosa pine, which is used for paneling and trim, and Douglas fir, which is used for two-by-fours and beams, Behling said.
"When we first moved in up there and started hauling we had a meeting with our truck drivers and trying to keep them under wraps because it's a residential area and a lot of orchard traffic, and so far we haven't had many complaints at all," Moon said.
Just last week, an orchardist called the sheriff's office to complain about speeding log trucks.
While it's not surprising to get a few complaints, Moon was happy to get a few compliments from orchardists and residents who appreciated efforts to keep impacts to a minimum.
"We put a fair amount of money into the county road we use going up into Mill Creek, to alleviate dust issues," he said. SDS voluntarily applied a dust abatement product, a natural product called Earth Bind, Moon said, to the gravel county road to control dust.
"It binds the fine material together in the gravel and basically kind of creates a semi-hard surface, which obviously keeps the dust in place when it does that," he said.
Since the dryer climate around The Dalles marks the edge of forested land, the area doesn't see much logging activity, Moon said. "With the current environment with the Forest Service, there's not a lot of activity out there and we're one of the few private landowners that have any ownership in the area. It's kind of the eastern edge of timber production land, you get much further east and you run out of trees."
The salvage operation is the top job for SDS right now, and it's putting all its resources on the project. It has two logging sides right now, each consisting of a loader and cats that drag the logs to the loader and a machine that cuts it. Four people man each side.
Behling said logging operations happen regularly in Wasco County, especially south of Mosier, and in Hood River County, but they're not very visible because the trucks aren't trundling through town.
"Really, the Forest Service has put a halt to a lot of their logging [on federal land] but Hood River County Forestry, they own about 35,000 acres" that is still being logged.
Behling said a couple other small landowners also did salvage logging after the fire, or are still logging, but their work isn't visible because "they just went out a different direction" and didn't go through town.
READ NEXT TOP STORY: Students dig into art