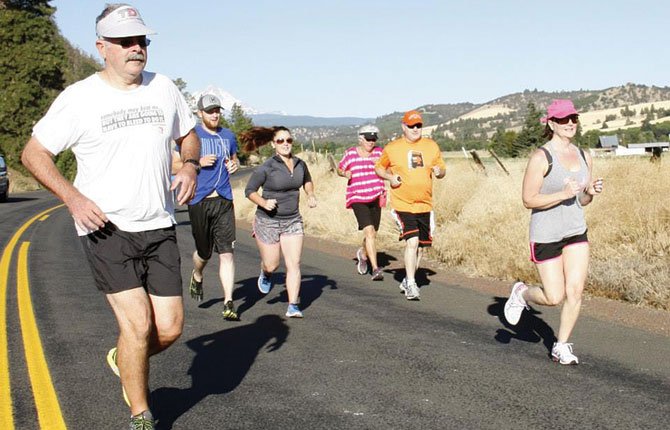 With snow-capped Mount Hood serving as a picturesque backdrop to the masses, a large crowd of running standouts pounded the pavement for the Dufur Valley 5k and 10k runs as part of festivities at the Threshing Bee celebration Saturday.
When the runners elbowed their way through the field and crossed the tape, the times were in the upper echelon of what has been showed through the racing circuit thus far.
The Dalles athlete Avery Cardosi ended her rally in first place with a solid time of 23 minutes and 10 minutes in the 5k event.
Mimi McDonell placed second at 25:53, Dezi Goudy curved her way to a 33:18, Gina Cochenour managed a 34:32 and Elise Nibbler rounded out the top-5 with her rally of 34:39.
Diana Pishion was sixth (37:00), former Dufur athlete Briana McCall notched seventh in 38:59, Nancy Matthews (42:33), Kellie Taphouse (54:00) and Kimmy Taylor (54:01) capped the field.
Dave Taphouse was tops in the men's classification with his running rally of 23:58, besting Tony Nagygyer (24:12) by 14 seconds.
Scottie Bryant and Tony Mathrig reeled off third-place scores of 25:12 and Shane Thompson inched his way to fifth place in 26:55.
Chris Highfield garnered sixth at 27:30, The Dalles Cross Country head coach Bob Thouvenel ended up seventh with his valiant effort of 31:41.
Gunner Browning (36:45) and Nick Anderson (38:59) added solid times in their own right for top-10 status.
When it comes to 10k women's races and winning in dominating fashion, Grace Neal is the reliable name to call on.
Neal hardly broke a sweat in her try, as she topped out in a robust 47:13 to tally top recognition.
Amanda Hoey (51:09), Leona Egeland (53:16), Lisa Harris (1:00.59) and Shilah Olson (1:01.57) finished the top-5 outcomes.
On the men's side, race coordinator and Portland State University multi-sport athlete, Al Dillard, proved that he still has his mojo working with a gold medal winning time of 31:42 to lap his competitors.
More than 16 minutes after Dillard was showered and re-hydrated, Spencer Browning hustled home for second place in 47:59.
Bryan Mears added a 50:49, Travis Browning nabbed fourth place in 54:24, Tommy Harris placed fifth in 58:02 and Albert Olson carded a 1:01.37 to finish up the final upper end participants.
All proceeds raised went towards Dufur athletics.
To make a donation, call 541-467-2381.
Up next on the racing circuit is the Wasco County fair 3k, 5k, 10k run/walk at 8 a.m. this Saturday in Maupin.
For more information, contact stuff can be found on the race website at www. wascocountyfair.com.
READ NEXT TOP STORY: A rarity: log trucks in town