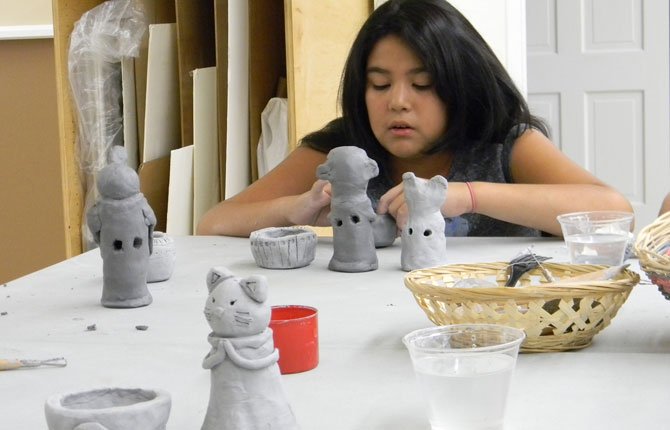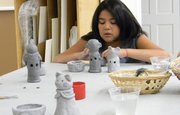 Students stuck out their tongues and furrowed their brows in concentration, hovering over animal-shaped bells and wide, round bowls formed from the clay they'd spent nearly three days working.
At The Dalles Art Association's "Clay & More" workshop hosted by local artist Yvonne Pepin-Wakefield at The Dalles Art Center Aug. 5-7, students were introduced to a variety of hand-building techniques to create functional and decorative works of art.
Jadyn Fargher, a fifth grader at Dufur School, said she planned on sending the heart-shaped bowl she crafted to a friend who recently moved to Kansas.
"I like basically everything about art," she said, smiling, painting layer upon layer of pale pink glaze across the outer surface of her bowl.
Fargher said she also enjoys photography and identified herself as the student who submitted the "Comfy Cat" photo for The Chronicle's youth photo contest.
"This workshop has been really fun; I've learned a lot and I definitely think I'd like to do more of them next year if I can."
Eileen Valdez, a former Colonel Wright student nervously anticipating her transition to The Dalles Middle School as a sixth grader this year, said some of her artistic inspiration came from her love of cats.
"I'm making a cat bell," on the medium and the age group, she said.
"In this class, the age group is older and there's been an average of about nine kids, but our most popular one where they get to learn how to work with fused glass tiles has 24, so it really depends."
The "Clay & More" workshop series cost $70, whereas the one-day glass class ran for $25. The total charge, Young said, largely depends on the cost of materials and the length of the workshop.
Young said she's excited at the prospect of possibly having adult classes on stained glass available through the Art Center this fall.
The Summer Art Camp series has been in full swing since mid-June, with each workshop geared toward encouraging students to expose themselves to different artistic mediums and to develop their own unique style.
READ NEXT TOP STORY: Editorial cartoons from Aug. 14