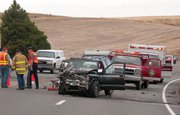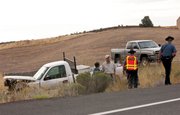 The Oregon State Police have released the name of the man who died in Thursday morning's fatal crash on Highway 197, about five miles north of Dufur.
Henry Jacob Girtz, 72, of Wamic was pronounced dead at the scene. He had been a passenger in the vehicle driven by Linda Girtz, 59, of Wamic. She was transported by LifeFlight to Oregon Health and Science University with serious injuries.
A 17-year-old female passenger was taken by ambulance to Mid-Columbia Medical Center for treatment of injuries.
All three were using seat belts.
According to police reports, Girtz' 1992 Chevrolet Blazer was struck about 7:30 a.m. Aug. 14 by a 2005 Chevrolet pickup driven by Peter D. Kelly, 73, of The Dalles.
An OSP investigaton determined that Kelly, who was traveling westbound on Ward Road, turned in front of the northbound blazer, which struck the pickup's left side. After impact, the pickup came to rest off the side of the highway and the blazer in the southbound lane.
Kelly was not injured.
READ NEXT TOP STORY: Wasco Fair opens with family fun