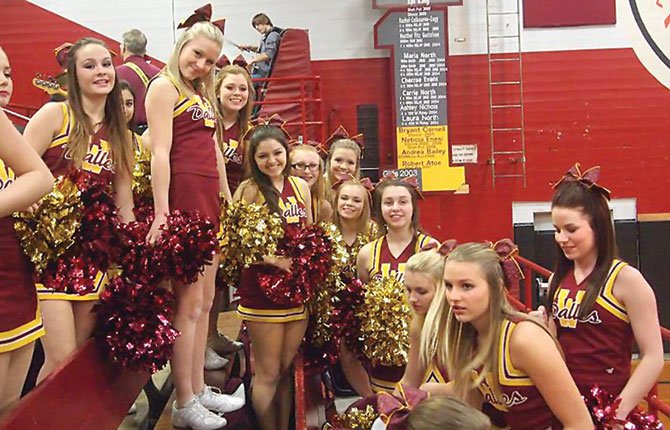 Balancing close to 50 different personalities, organizing practices and establishing a new base of routines for an upcoming sports season is challenging enough for The Dalles High School Dance and Cheer coach Kristi Maley.
With a new mascot name change from Eagle Indian to Riverhawk, now Maley and her team is faced with the notion of updating everything across the board with a limited bankroll.
Some estimates run as high as tens of thousands of dollars per school year, when including camps, clinics, cheer uniforms, poms, dance costumes, clothing and other costs, so those numbers quickly add up through the course of year.
According to an ABC News report, most high schools budget an average of $3,500 a year for cheer programs, so a majority of the funds are drummed up through various fundraising efforts.
Sure, the team had a yard sale and conducted a car wash earlier this summer, but the money raised is just a drop in the bucket terms of monetary responsibilities.
Currently, the team has started a fundraising push called Snap! to raise in excess of $3,000 in 22 days and have managed just $480 in a week's time.
"Each girl is trying to raise $250 to cover what the new uniforms cost per girl," Maley said.
During the year, these athletes become close through team bonding exercises, so they get to know each other to establish continuity.

In practice, Maley teaches the dances and they also have good seniors help out the younger kids to ensure everyone is on the same page.

It is critical because during routines, all of the members have to look the same, all have to dance the same and make sure they are all synchronized.
There are also the experts who believe cheer and dance is not a sport.

Added to their vast list of requirements, cheer members still need to run, lift weights and maintain a strict diet to keep the engine running at an optimum rate.

Cheer participants know all too well the amount of nicks, bruises, welts, sprains, divots, breaks and gashes endured during performances and practices.

Still, the show must go on and the smiles need to shine brighter every day.
It is a mix of time and energy, overcoming illness and pain for the thrill of it all.

The sport requires a lot of time in front of a mirror at home trying to improve, working on their craft with additional instructional classes to help the team become better on all fronts.

Once the bright lights of the gym and stadium flick on, there is no bigger rush of energy as these athletes shout from the gut for the crimson and gold.
Those tough financial burdens are not just limited to cheer or other interscholastic sports, but many families are struggling to meet their own budgets on a monthly basis.
It is a daily struggle and sometimes can become overwhelming.
That notion was not lost on the mind of cheer member Madison Rowland.

"It is nice for the people in this town to come out and give us money when they don't have to," she said. "There are a lot of programs that are struggling right now, so for the people in this community to give to our program means a lot to us. It makes us want to go out there and do our best for our school and for them."
Any money donated to the cause is tax deductible and those contributing will receive a receipt.
To donate to the program, people can email kristi.maley@gmail.com or log on to https://app.snap-raise.com/fundraisers/1248/participant/17356.
READ NEXT TOP STORY: Youth golfers prove they belong