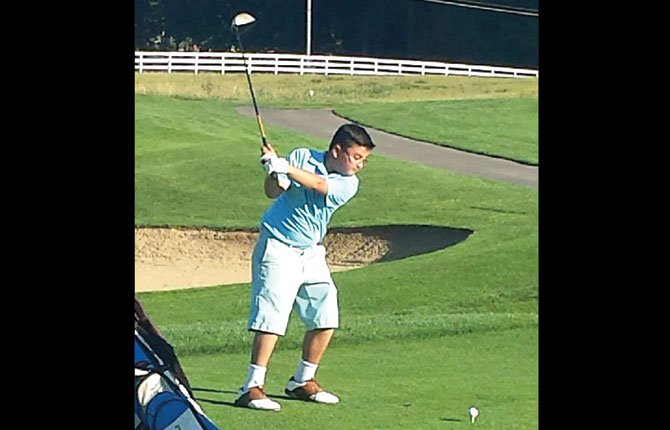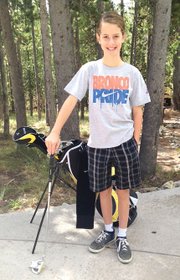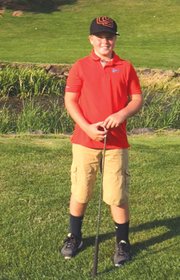 Coming off a breakthrough campaign where he earned a state appearance and had a career-low 78 in the opening round, The Dalles High School varsity golfer, Chase Snodgrass continued his impressive ascension by posting a new best of 75 to cruise past the field on his way to top honors at the 2014 The Dalles Country Club Junior Championships Tuesday in The Dalles.
After his solid state showing, TDHS head coach Kent Smith knew that Snodgrass would keep working diligently on his craft in the summer months and that those hours logged could lead to a better all-around game.
"He is the type of kid who wants to be one of the best players," said Smith in an earlier interview. "Chase knows his hard work will pay off in the future."
The Dalles Junior Golf Program concluded Aug. 5 with 112 youth golfers from the ages of 5-17 competing in the final event of the seven-week course at The Dalles Country Club.
In this championship setting, the field of participants consisted of many of the younger golfers competing on the course for the first time with a scorecard.
For the high school and junior high players, it was an opportunity for them to continue their ongoing development in the sport.
In addition to Snodgrass' top efforts on the links, the duo of Aidan Telles and TDHS varsity player Bailey Ortega duked it out for 18 holes on the red/white tees and wound up in a second-place tie with identical 87s on the books.
Ortega has played in six tournaments this summer, while balancing work and his game in the process.
When focused on the task at hand, Ortega played a bevy of rounds with teammates Mark Felderman, Darsh Patel, Snodgrass, along with his grandpa Carl, uncle Craig, and friend, Paul Titus.

Bob Sproule was another resource as well as TDCC golf professional, Amy McCormack.
Ortega's father, Ed, a former standout athlete at The Dalles, thanked everyone involved for their tireless dedication.
"It is an awesome way to get young kids introduced to the game of golf. Bob and the crew at the club really do a fantastic job with all of the kids," Ed Ortega said. "Bailey played in six tournaments this summer in the Junior (Oregon Golf Association) program and improved his play every tournament as the summer progressed. I am proud of his effort and for keeping his head up when he had rough spots on the course."
While the older group played through 18 holes, the younger male and female players played in varied events including 5-hole, 3-hole and 5-hole putting course events.
Teeing off at 8 a.m., Kylan McCavic had her short game working wonders, as she racked up a final tally of 38 to move past Megan Kendall (44) by six strokes to a girl's title.
"For this junior championship, I really tried to remember everything we learned during our lessons," McCavic said. "I think my swing really improved this summer. This helped me hit straighter and farther. I had a lot of fun playing and want to do more tournaments."
This is the first year McCavic has been involved in the Junior Golf Program.
Through hours of practice, pounding the pavement and playing weekly, this summer has shown some monumental gains.
"I have been playing a lot more golf this year with my friends and family," McCavic said. "I think this has helped my game a lot. Amy, the pro at The Dalles Country Club, started a new Junior Program. I really hope to play in that next spring."
Following McCavic and Kendall in the 8 a.m. division, Isaac Anthony had all elements of his game rolling on a top level, as he carded a 36 to take home a tournament crown.
Casey Miller and Luke Petroff each tallied marks of 46 to end up in a tie for second place.
Playing in five holes off the purple tees, Skyler Shearer secured tournament gold in the boys' 9 a.m. event with his score of 32, besting Caleb Nelson (37) by five shots.
On the girl's 9 a.m. side, Gracie Stampflee took hold of the title with a 39 to win by an impressive 14 strokes over Sam Stansbury, who hustled to a 53.
Shooting off the purple tees for three holes, Harley Beaver shot a 34 for first place to defeat second-place winner, Sawyer Dray (44).
Megan Nelson won the three-hole event, which teed off at 10 a.m. with her 53 telling the story. Emma Ortega was right behind in second place at 56.
An hour after Beaver, Dray, Nelson and Emma Ortega hit the links, Joel Ortega went to work to salvage a stirring score of 21 in the 5-hole putting course to move past Thatcher Dray, who chalked up a 36.
Roslyn Elliott strutted her stuff with a 5-hole score of 27 to place first ahead of Ellie Brock's 29 in what turned out to be a highly-contested duel down the stretch.
The PGA launched the junior league in 2011 in four cities, since then the program continues to grow and now there are more than 750 teams across North America.

This year, McCormack introduced the program to The Dalles Golf and Country Club and the response from the community was impressive.

This stout group is comprised of 16 members and has players ranging in age from 8-13, with all levels of playing experience including novice, advanced and expert.
McCormack had those players revved up for match play against Hood River and they responded with wins of 6-2 and 9-6 to set the bar high.
McCormack was obviously pleased with the way her first-year squad performed, both at Indian Creek and then again back in The Dalles.

"Every time I watch these kids play I am impressed with their enthusiasm, sportsmanship and camaraderie," McCormack said in a quote this past July. "Since the adults are not allowed to coach once play starts, it's all up to the kids. I love watching the more experienced players help their teammates and then see the satisfaction that all the players get when they hit the ball well, that's what golf is all about."
There was no girls' club champion or runner-up, as none of the participants played 18 holes, which is required for a winner.
For more information on the club and programs it offers, call the club house at 541-296-5252.
READ NEXT TOP STORY: Closures planned for Cherry Heights