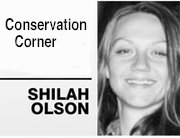 Whether you have one or 500 acres, if you live along a stream you must take care of it. Water quality laws in Oregon require that agricultural activities do not pollute surface or ground water, correctly manage wastes (including manure) and provide adequate vegetation along streams.
The Oregon Department of Agriculture (ODA) is the state agency responsible for ensuring compliance with the law. In the past, they have focused most of their work on making sure people understand what is required of them. As a result, many individuals have implemented practices to protect and improve water quality. Unfortunately, it has been difficult for ODA to prove to their critics that the good work done by farmers and ranchers has actually made a difference.
In response, ODA has developed a new method of determining whether agricultural producers are complying with the law. They have chosen two "Strategic Implementation Areas" in Oregon to test this new method, one of which is along Mill Creek in Wasco County. ODA recently completed a compliance evaluation, which involved both a remote evaluation and field verification from publicly accessible areas.
Affected landowners along Mill Creek have been sent letters explaining the process and any problems identified. Those who have received letters and would like help proceeding can either contact ODA directly or work with the Wasco County Soil and Water Conservation District (SWCD). The SWCD is a local, non-regulatory source of conservation information and advice.
The compliance evaluation on Mill Creek marks the beginning of a new era for agricultural producers in Oregon. The rest of the state will eventually be evaluated in a similar way. What can you do? Take a walk along your stream and look for noxious weeds, eroding banks, animal trails, sources of manure and grazed-down vegetation. Ask yourself or a technical expert if the streambank could be in better shape.
Healthy streamsides share some common traits, including few weeds, many plants, diverse species, a mix of young and old plants, little bare ground, plants with strong root masses, and plants that prefer moist or saturated soils. Activities that benefit streams include leaving a buffer between streams and working land, fencing livestock away from the stream, providing off-stream livestock water, controlling weeds, and planting native vegetation.
Many producers have improved streamside areas on their own, but technical and financial help is available. The Wasco County SWCD can help you develop and implement a plan. Financial assistance is available through a variety of programs to help make these plans become a reality. For example, grants are available to help pay for projects that control mud and manure, and to improve stream conditions.
The Conservation Reserve Enhancement Program (CREP) is a popular voluntary program that helps agricultural producers protect streamside areas and wetlands. The cost-share provided by state and federal agencies may cover all costs. CREP is particularly helpful where a streambank has been degraded or a field has been cultivated to the stream's edge.
For more information on ODA's Strategic Implementation process, or to speak with a SWCD planner, contact Shilah Olson at (541) 296-6178 ext. 105.