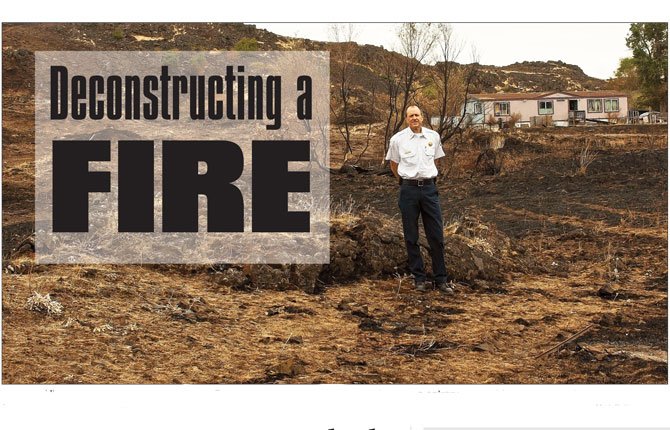 RELATED STORY: Evacuations: 'Controlled chaos'
Rowena fire numbers
Total Size: 3,680 acres
Estimated total cost: $4.6 million
Oregon Department of Forestry: $3.7 million
Oregon State Fire Marshalls: $900,000
Total value of estimated damage and property destroyed: $285,000
Over 400 homes in Level 3 evacuations
Highest national priority fire for three days
Red Flag warning for winds for three days
Conflagration Act invoked; Fire Management Assistance Grant approved
Peak staffing: 832 personnel; Six OSFM task forces; Five Type 1 Helos; 24 hand-crews; six dozers; 25 wildland engines
Aug. 7 Foley Lake Fire damage:
Estimated total damage and property destroyed: $90,000.00
Structure #1: Residential double-wide mobile home (destroyed)
Structure #2: Residential double-wide mobile home (moderate damage)
Structure #3: Residential double-wide mobile home (minor damage)
Structure #4: Small outbuilding (heavy damage)
Structure #5: Small outbuilding (minor damage)
Additional Damage:
1 two-story barn with machinery, farm equipment and approximately 20 tons of hay
1 shop with machinery and tools
Farm machinery on the exterior of structures
1 boat exterior of structure
1 late model farm truck
While the cause of the Rowena fire remains unknown, Mid-Columbia Fire and Rescue Chief Robert Palmer said it appears to be yet another case of history repeating itself.
In 1998, another fire ignited just a bit further east of the most recent blaze's starting point, he said, and seemed to follow a similar pattern. Reviewing the previous fire, he said, gave them a good idea of what to expect from the new one.
About a year and a half ago, Mid-Columbia firefighters underwent training in the very same area, which simulated many of the conditions experienced by those combating last week's blaze.
"The event was organized with tabletop precision," Palmer said, "We like to look at areas that have the potential for large events, and this is definitely one of them. So we actually had a pretty good idea what to expect going into this one; it was basically a replay of 1998."
Leaping up along the edge of Highway 30 around 9:30 p.m. Aug. 5 between the Rowena viewpoint and The Dalles, Palmer said the 15-20 mph winds with 30 mph gusts and dry conditions were instrumental in creating the fast-moving fire that was later recognized as a national priority.
"When we arrived, the fire was already well up the hillside," he said. "The steep terrain made it very difficult to access, especially at night. When you get fire on a slope like this, it preheats and dries all the fuel above it, causing it to ignite even more quickly, allowing the fire to push right up the hill. We knew pretty early on we were going to need additional resources from the state."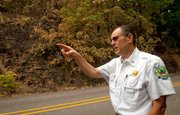 A Level 3 (go) evacuation was called for the first seven residences in the vicinity, and he credited Wasco County Sheriff's Office Chief Dep. Lane Magill and Emergency Manager Kristy Beachamp for "getting the word out" so efficiently.
"A fair amount of door-knocking was going on then," Palmer said, with evacuation calls based on residences' proximity to the fire.
Mid-Columbia firefighters were working the unruly blaze from 9:36 p.m. until about noon the next day, staggering relief for those who had been at it the longest as state resources began to file in around 6:30 a.m. Aug. 6.
"This was a really complex fire for us," Division Chief Dave Lapof said, mostly due to environmental factors such as the steadily driving wind, high temperatures and low humidity.
"You don't normally see a fire roar down a hill like that [towards Foley Lakes], but with that wind behind it — pretty much anything was possible," he said. "Our top three priorities were the safety of our personnel and members of the public, the protection of property and to try to keep the scenic area of the gorge as intact as possible."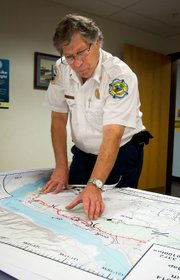 Big fires call for long hours in the field, Palmer agreed, but even such a long night's battle he doesn't consider to be too unusual.
"It comes with the territory," he said simply. "Usually we can count on it being about a once-a-year thing, but I hope we don't see another one of these big fires anytime soon."
Mid-Columbia deployed its structure-saving resources to protect Rowena homes immediately, he said, before making the Rowena viewpoint the unified command center with the U.S. Forest Service.
"The vantage point gave us a good look at the fire with its sloped terrain," Palmer said. "We tried to keep it below the ridge line, but obviously it didn't cooperate as it continued to progress. We knew we wouldn't be able to beat Mother Nature."
Mid-Columbia Fire immediately began moving on getting the initial evacuations going and the official conflagration call was made between midnight and 1 p.m.
"The initial reaction we got when we called for more resources was, 'What do you mean it's only about 15 acres?' but we knew it would grow fast, and it did."
On Aug. 6, the fire moved three miles in just as many hours, covering about 1,900 acres by midnight. The fire made a rapid advance toward The Dalles as it burned through an estimated 1,700 acres of trees, brush and grasses.
Again, a Level 3 evacuation was called for those living in the Hidden Valley and Foley Lakes areas.
"There wasn't a whole lot of time," Palmer said. "We ask people to pre-plan if they live in areas that are prone to situations like this, which pretty much most of The Dalles is."
Dry fuels such as grasses, underbrush and even ornamental shrubs are all factors that can contribute to making a structure less defensible in the face of a fire.
"When you have a high intensity fire moving toward 2- or 3-foot-tall grass surrounding several structures," he said, "you can only risk your crews to a point in such circumstances where the potential danger is so high."
In the case of Foley Lakes, the fire had burned through the area, but rekindled once firefighters had moved on to attend another area.
"That's when the damage was caused to those structures," Palmer said. "You look for hidden fire and you do the best you can with the resources you have. The houses were okay at the time, but if the fire doesn't burn clean and the wind picks up and blows the ashes—it could mean it's off to the races again."
Those living near a naturally vegetated area, often referred to as the wildland urban interface, can create a buffer zone by removing the weeds, brush and other dry vegetation that surrounds their homes. The effort can help keep fire away and reduce the risk of flying embers.
Chief Palmer said the department encourages people who live in wildland urban interface areas to make their houses and other structures as defensible as possible and to be prepared to follow an emergency evacuation process as needed.
"We ask people to be vigilant out there and to watch out for what's going on," he said. "If anyone sees anything happening on the perimeter of the fire somewhere, we need to know about it. Just be watchful and make sure to report fires early."
READ NEXT TOP STORY: Evacuations: 'Controlled chaos'