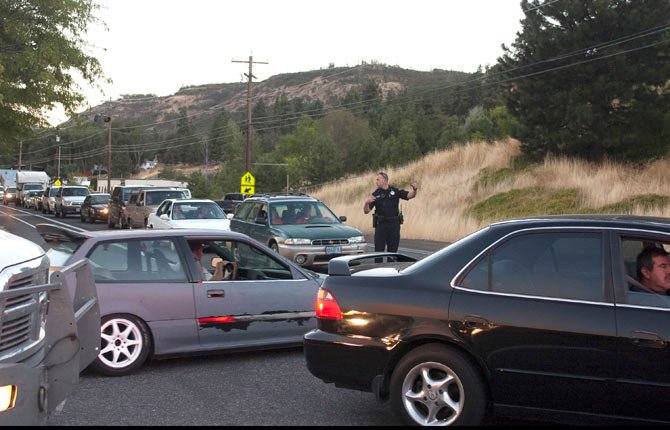 When a fast-moving wildfire is bearing down on a town, the public's thoughts naturally turn to the efforts of firefighters as they battle the blaze.
But such events also heavily involve area law enforcement officers, who have the sometimes prickly work of telling people to leave their homes — and the much more contentious job of telling them, at roadblocks, that they can't return.
Four law officers, representing city, county and state police agencies, all told a remarkably similar story of mostly cooperative people, both in evacuations and at road blocks during the Rowena Fire.

Even so, Wasco County Sheriff's Department Chief Dep. Lane Magill flatly said doing evacuations is one of his most stressful tasks in law enforcement.
"I do a lot of things in law enforcement that are pretty stressful, like arresting very, very violent bad, bad people," he said. "But I can tell you the hardest thing I have to do is remove people from their homes. And quite frankly, what's harder than that is not to allow them back to their home."
It's their duty to keep people safe, but they also fully understand how difficult it must be for the citizens under evacuation.
For that reason, the law officers understood when tempers flared.
"You've got to remember, people were under a huge amount of stress and you've got to understand that," said Oregon State Police Lt. Pat Shortt.
Doing evacuations, "you're a little bit amped up," Wasco County Sheriff's Deputy Seth Routson said. "You're trying to get people out. It's a Level 3 evacuation. It's mandatory, but along the same lines, you can't physically remove them."
He saw fear on evacuees' faces, and for the most part, people readily agreed to leave because the fire was looming and the wind was blowing.
Routson pulled his regular day shift Wednesday, Aug. 6, then stayed on to help with evacuations that evening. For the next two days, he stood in the heat manning roadblocks, where tempers flared. "It was just hot, and it was a little bit taxing. Usually, I was pretty drenched in sweat after it all."
All three area police agencies pitched in that Wednesday, notifying hundreds of residents they had to leave, or get ready to leave, as the fire bore down on The Dalles.
"I guess the best way to put it is controlled chaos," Magill said. He said he was willing to have people yell and scream at him at a road block because "I know in the heat of battle people don't sometimes think clearly and I get that."
At a roadblock on a second fire, on Browns Creek, people threatened to sue him, a few car doors were slammed in his face, and "people were yelling and screaming."
"That's part of the American dream is owning your own piece of property and I get that and I would feel the same way they would," he said of people turned away from checking on homes and animals.
"Let's face it, panic strikes at certain things and people get overwhelmed with emotions, with their pets and their property and I get it. And it's not like we're the smartest people in the world, but sometimes we're the voice of reason that keeps everybody safe," he said.
"There was a lot of people that were really upset with us, but you know what, I slept like a baby that night because I knew they were safe," he said.
Law officers not only handled evacuations and roadblocks, but also patrolled evacuated areas as much as possible to provide security.
The Dalles Police Capt. Ed Goodman had the relatively easier task of informing an area of homes called Oak Wood Estates that they were under a Level 1 evacuation, which meant they should get ready to go.
"There were people there who didn't know there was a fire. I'm serious. In their defense, look how fast that fire moved," Goodman said.
He spent about a minute at each door — "I didn't let any grass grow under my feet. Everybody was super nice, everybody was super helpful." At least six times he heard neighbors saying they would help other infirm neighbors get out.
Traffic control for the second fire that started on Browns Creek was a bit more hair-raising. "Most people were pretty understanding and didn't want to kill the messenger," Goodman said. "There were people who zoomed around the line of cars because they thought their situation was more critical," he said. "People get panicky and worked up and you know what, I understand that."
Shortt was grateful that the Oregon Department of Transportation manned roadblocks 24 hours a day, freeing up law officers. Even so, ODOT workers called for a police presence as often as possible at roadblocks.
"I know there were some people that weren't overly cooperative… That's the advantage of having a trooper there as much as possible — we can help alleviate that uncooperativeness," Shortt said.
The sheriff's office, in concert with fire commanders, is in charge of deciding when and where to evacuate, Magill said. Knowing his own agency lacked the manpower to cover everyone, he was grateful when the city police and state police offered to help.
The sheriff's office learned a few things from the Government Flats Complex fire and instituted a regularly updated fire hotline for people to call. "That was crucial. That really freed our dispatchers up to not handle these general information calls and handle the emergencies out there and I really appreciated those citizens who utilized those hotlines."
Foley Lakes, the only area that lost a home in the fire, was the number one priority for evacuations in The Dalles, Magill said. "Foley Lakes has all manufactured homes, they're much more subject to going up than a stick-built home would be," he said.
The 15 deputies of the sheriff's department all received texts Wednesday telling them of the evacuations, and 13 of the 15 were able to respond to help, Magill said.
Law agencies concentrated on Foley Lakes, and within 30 minutes, all 145 homes there were notified. Nearly everybody left Foley Lakes, he said. About 50 percent of people left nearby Murray's Addition. But traffic control became a headache. The evacuation of Foley Lakes led to "massive chaos," Magill said. It became so bottlenecked people trying to get out couldn't.
City police then set up a road block at 10th and Irvine. "It was a huge help, it was just massive help," he said.
Shortt also helped with evacuations along Highway 30, and protocol was to note the names and addresses of residents who refused to leave, so police knew who was still in place, "and let them know, 'Hey, we may not be able to come back and help you.'"
Magill said when law officers are working the evacuations and roadblocks, they're just going about their jobs. It's when they get done with it that they look back on it and say, "That was crazy there. And everybody decompresses and visits about it."
READ NEXT TOP STORY: Local schools are ready for football