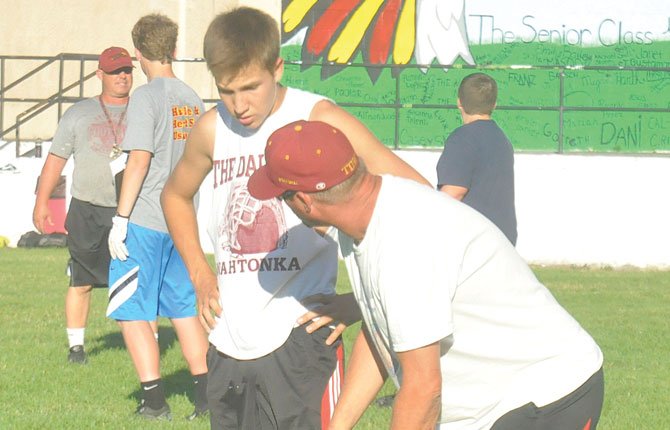 The first day to the start of the regular season and the prevailing hopes of riding momentum into the postseason starts Monday for local schools The Dalles, Dufur and Sherman County.
All three of those squads have some questions to answer at certain positions and based on numbers and progressions, this is the start of the evaluation process for Steve Sugg, Jack Henderson and Ron Townsend.
Starting Monday, The Dalles has its two-a-days kicking off at 8-11 a.m. at Discovery Field on the Wahtonka High campus and the second practice starts at 6 p.m. and finishes up at 9 p.m. The two practice days are on the 18, 20, 22, 25 and 27.
On the 19, 21 and 26, practice goes from 6-9 p.m.
And then on Saturday, Aug. 23, the Riverhawks hold practice from 10 a.m. to 1 p.m.
After that, on the 28th, practice starts at 5 p.m. and ends at 7:30 p.m.
TD has its jamboree slated for Friday, Aug. 29 in Redmond.
The Riverhawks, of The Dalles, will be young at many positions, as 13 varsity players graduated this past June.
Second-year head coach Steve Sugg knows there will be some ebbs and flows with such a young bunch, but is looking forward to this new and fresh exciting chapter to The Dalles.
There is a good core in place with Devin Wilson, Dominique Seufalemua, Jordan Lutu, Glenn Breckterfield, Ross Kohl and Justis Fa'amausili representing the skill players who have been around from the onset of spring.
"This is what coaching is all about," Sugg said. "You have players here who are young and inexperienced, so that means us coaches have to coach them up and prepare them for the new season. It is all a process and we realize that. Our goal is to improve day-by-day, practice-by-practice and game-by-game. If we can do that, we will have a successful season."
Coming off a playoff season under coach Todd Swan, the Huskies are a year older and wiser and they get a fresh start under six-time Coach of the Year Ron Townsend.
The practices be will in three-hour increments for Sherman, as they work around the Sherman Fair.
Players will hit the field from 5-8 p.m. on Monday and Tuesday, and on Wednesday, Thursday and Friday, the team works out between the hours of 7-9 a.m.
Since Townsend was inserted into this new role in late July, he is not sure what type of talent he has available to him, but he has an opportunity to work shoulder-to-shoulder with Max Martin, Isaiah Coles, Mav Winslow, Brett Evans and Austin Kaseberg.
"We will be working hard to establish fundamentals in the first week as well as evaluate what our strengths will be," Townsend said. "We will adjust our game plan depending on what we do best."
As a coach, Townsend won two state championships on the gridiron and now he gets a chance to be one of the main orchestrators to leading this squad back to prominence.
"We are looking forward to the season and will work hard to improve on all phases of the game as the season progresses," he said.
As the back-to-back Big Sky Conference champions, Henderson still boasts depth at many positions even with the loss of all-state athletes Cole Parke and Austin Olson.
The cupboard is far from bare to say the least, as Nick Little, Jon Buntin, Trever Tibbets, Brent Sumner, Jon Keyser and Bailey Keever are back for some championship action.
Dufur plans for three two-a-day sessions on Monday, Wednesday and Friday this week from 7:30-10 a.m. and then 5-7 p.m. at Dufur City Park.
Running from 5-8 p.m. on Tuesday and Thursday, the team practices in just one go-around.
On Monday and Tuesday, players will run with helmets only, and helmets and shoulder pads will be worn on Wednesday. From Thursday on, every player will be donned in full pads.
The goal is to build on the 11 wins and 698 points posted and this group, in large part, has the skill necessary to do so.
"We are very excited about the upcoming season," Henderson said. "We have the potential to have significant depth this season, which would be a very nice change for the Rangers."
READ NEXT TOP STORY: Judge releasing Oregon coal terminal documents