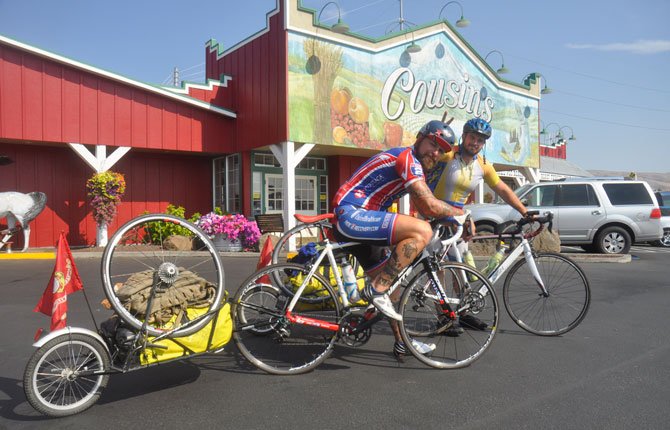 Two Marine veterans cycled into The Dalles Saturday afternoon on the final leg of their 4,400 mile ride to honor a fallen brother and raise money for a children's charity.
Jay Knight, 28, and Denny Salisbury, 27, were provided with a free room by Cousin's Country Inn, one of many acts of generosity along a trip that has helped heal their war-weary souls.
"I think this ride has given me a piece of myself back," said Knight, who deployed twice to Iraq. "I'm just excited for life and I haven't felt that way for a very long time. I've learned what's important to me and I'm interested in getting the next step in life started."
Rod Runyon, northeast district ride captain for the Patriot Guard Riders, was contacted about the veterans' journey and arranged with Addie Case, general manager of Cousins, for their lodging.
"I was going to be at the fair all weekend so I called several military families but everyone was busy with summer activities," he said. "So, I called Addie and she made everything happen."
The Johnny Strong Charity Ride for Child's Play, also known as PAX2PAX Ride, continued Sunday with a trip to Hood River and then on to White Salmon for a night with Salisbury's relatives.
"A funny thing about Oregon is that there are holes in the ground from burnt cars about every 50 miles," said Salisbury, who has been charting obstacles.
The Marines had to avoid turtles on the roadways of Missouri, shattered glass in Colorado and empty shooters (small bottles of alcohol) in Connecticut.
"I had no idea that Eastern Oregon was a desert – it's hotter than heck out there," said Salisbury. "When I saw Mt. Hood, I got so excited because I had been to the gorge before and it's one of the most beautiful places on earth."
The start of the week took the Marines to Cascade Locks before they headed to Portland and a visit at Doernbecher Childrens Hospital. That will be the 23rd they have visited while zig-zagging across the country.
"Every part of the country has something special about it and there have been a lot of people who dropped everything to make sure we were okay," said Salisbury, who returned home from his first deployment to Iraq in 2007 with severe injuries from an IED (Improvised Explosive Device) blast.

"It's been humbling to get to meet so many of the people who we fought for."
He is a ride leader for Project Hero Northern California, a part of Ride 2 Recovery, a nonprofit organization that helps wounded veterans heal through cycling. Almost immediately after leaving Boston on April 11, Salisbury separated his shoulder, and destroyed his bike, after riding into a large pothole. He also broke his wrist after being run off the road in another incident.
"Chaos is just attracted to me," he said.
On the plus side, he chased down a shoplifting suspect and assisted an injured motorist at the scene of an accident. And several pieces of the shrapnel he has carried since deployment have worked their way to the surface of his skin with the extreme exertion.
He and Knight barely escaped the path of a tornado near Kansas City, Kansas. They were given a police escort into Kewanee, Ill, and the opportunity to go shooting with members of the SWAT team.
"One thing that's remained true throughout the entire trip is that, if you give good people a chance to do something great, they hop on it," said Knight, who received a $5,000 grant from the Travis Manion Foundation to start off the trip.
Manion was a Marine officer who died April 26, 2007, during a deployment to Iraq.
Things were rocky at the start when their support driver backed out and they were forced to haul supplies in trailers behind their bikes. Then Megan Goodwin, who had helped a double amputee travel across the U.S. in Ride 2 Recovery, offered her assistance.
"She said, 'Can I help you?' and I said, 'Yes, you're hired,'" said Knight.
Goodwin took over the itinerary and began calling ahead to arrange lodging so they could focus on the mission.
It was Knight's Facebook posting about plans to cycle across America that led to Salisbury's involvement. The two men both live in California, Knight in Los Angeles and Salisbury in Kelseyville, but life had pulled them apart after their departure from the Corps.
Knight pursued a college degree in economics and Salisbury had been led to work with other vets.
"Jay didn't have any cycling knowledge and cycling's my gig so I felt I could help out," he said.
Their two-part mission began with paying respects to USMC Lcpl. Johnny Strong, a mortarman from Waco, Texas, who was shot and killed by an enemy sniper on June 12, 2007, just two weeks after his 21st birthday.
Strong, along with Knight and Salisbury, was assigned to the 2nd Battalion, 7th Marines out of Twentynine Palms, Calif. They were part of a mobile assault platoon and battalion.
At the time of Strong's death, Salisbury, a lance corporal and an anti-tank missileman on his first deployment, was in the hospital being treated for shrapnel wounds and other injuries.
Knight, who left the Corps as a sergeant, was present to deal with the tragic loss of Strong, who had served with him on two deployments to Al Anbar Province in war-torn Iraq.
"We both joined out of high school and I felt it was time to let others be inspired by him and allow good to be done because of him," he said.
Strong, an avid gamer, had intended to get into the video game industry at some point in his future, and earned the nickname "Best Buy" for renting out games and movies on the base.
And that was where the second part of Knight and Salisbury's mission came in.
"I planned it in chunks," said Knight. "I had called Johnny's parents about a year earlier to ask if I could honor their son and then I began looking around for a charity that could benefit from the ride."
He selected Child's Play, a charitable organization, to be the beneficiary of the $100,000 that he wanted to raise. He felt Strong would applaud helping out Jerry Holkins and Mike Krahulik, who had teamed up in 2003 to improve the lives of children being treated for cancer and a variety of other life-threatening conditions.
The two men authored the popular computer and video games-based webcomic "Penny Arcade" and organized worldwide toy drives for children's hospitals. Through Child's Play, donors have sent more than 25 million in toys, games and books to children's hospitals around the world.
In 2004, Holkins and Krahulik created the largest gaming festival and convention in North America, the Penny Arcade Expo, commonly known as PAX Prime in Seattle. A second event, called PAX East, was established in Boston, Mass., in 2010.
Knight felt it would be appropriate to leave from Boston during that convention and arrive in Seattle at the onset of that festival.
Along the way, they have met up with friends from the Corps and military families from all branches of the service who stepped forward to give them lodging, a meal and some cash.
"We actually gained weight through the Midwest because the people were so generous," said Salisbury. "Every part of the country has something special about it."
Knight said there could be a book about the journey in the future and he is considering whether to start a nonprofit to aid veterans. But, at the moment, he is most excited about a reunion with his girlfriend Molly and their Beagle named "Grunt."
"We genuinely haven't met a bad person this entire way," he said.
Salisbury's daughter, Versailee, will be joining them on Aug. 28, her fifth birthday, for the ride into Seattle and the celebration planned by Child's Play.

More information can be found about Knight and Salisbury's ride at pax2pax.org.
READ NEXT TOP STORY: Fivemile hit by mail thief