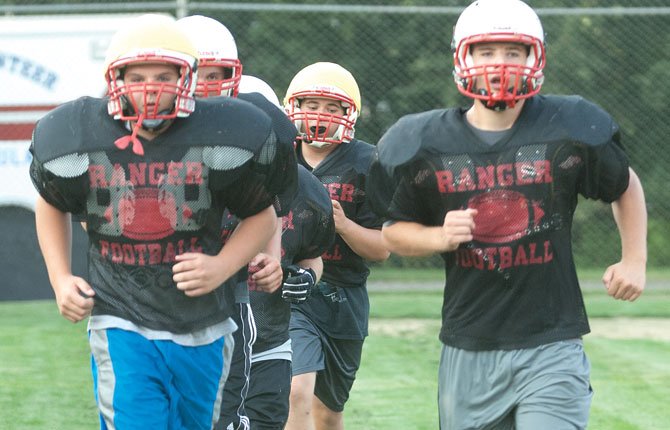 When it comes to sports activities, the biggest area of importance is athlete health, while physical activities are at a heightened level.
Players need to know their bodies and coaches need to be extra mindful and cautious of all the athletes.
For several fall sports teams, including football, volleyball, soccer, cross country and cheer squads across the state, daily double practices kicked off Monday afternoon.
This week in the gorge, the temperatures are uncharacteristically mild. With scales reading between 80-85 degrees, there are still precautions to take as the thermometer rises this month and next.
If players get too hot while exerting energy on the field or hardwood, they can get sick.
Some athletes can become ill from the heat if their body cannot compensate for it and properly cool off.
In a US News and World Report article, 40 high school football players were report to have died from heat stroke since 1995, with five of those deaths occurring in 2011. Dozens more are hospitalized each year with heat-related illness, according to an annual report released in February 2012 by the National Center for Catastrophic Sport Injury Research (NCCSIR).
On the local front, Dufur High School football coach and superintendent Jack Henderson is well versed in the safety precautions needed for his football team.
It is an issue not taken lightly by any stretch.
He and his coaching staff encourage the athletes to be aware of their bodies and know limits.
"You just have to be really, really careful and our bottom line concern is that our student-athletes have a great, safe experience," Henderson said. "So, if it is hot, you back off and you drink water and get them to take care of themselves that way and give them the green light and make them feel comfortable that if they start feeling bad in practice or not feeling normal, then they need to stop."
According to the U.S. News Health website, heat-related sicknesses sideline American high school athletes for more than 9,000 days a year.
The majority of such illnesses (70.7 percent) occur among football players, according to U.S. Centers for Disease Control and Prevention researchers who analyzed 2005-09 data from the National High School Sports-Related Injury Surveillance Study.
About two-thirds of heat-related illnesses occur during August and most happen during practices, not games.
Heat-related illnesses included heat cramps, heat exhaustion and heat stroke.
Henderson added that athletes need to speak up and communicate with coaching personnel if they are not feeling right or need a break.
It is all about communication.
"They need to tell us, the coaches, what is going on. Just the trust between the student-athletes and the coaches are key in this regard," he said. "It is the most important thing for coaches in an athletic program and school districts to provide the safest atmosphere possible for students to participate in extra-curricular activities. That is part of the educational program."
Certified athletic trainers advise that the best way to curtail any medical issues is for athletes to casually work into a conditioning regimen in the offseason, so when the preseason practices begin, an athlete's body will be conditioned to strenuous exercise.
In addition, a proper diet, coupled with plenty of water is the best way to avoid nagging injuries and other issues.
Heat stroke is the most serious of the four levels of heat illness.
Progressing from dehydration to heat cramps to heat exhaustion without intervention may lead to heat stroke where the core body temperature exceeds 104 degrees.
Since the common symptoms (nausea, incoherence, fatigue, weakness, vomiting, muscle cramps) of heat exhaustion and heat stroke are similar, it can be hard to tell when a player has crossed that dangerous line.
That is why most medical professionals recommend a proactive approach to playing in the heat.
To combat the dangerous levels of the heat, the OSAA (Oregon Schools Activity Association) has had stringent rules that make it a violation for any team to practice on days when the Heat Index is beyond acceptable limits.
Some coaches are moving practice times at cooler parts of the day, some ranging from morning and afternoon sessions at two-to-three hour intervals with water breaks and rest intervals in place.
While The Dalles, Dufur and Sherman have the luxury of having a trainer on staff, some of other schools in the area are reliant on an educated coaching staff to know the athletes and the amount of exercise they are working through.
Henderson said as time has worn on, coaches have become more sophisticated in that aspect in treating players like humans, not like robots.
"That is one of the things we work on with all of our coaches recognizing that stuff and keeping students safe," Henderson said. "We are better at it today than we were a few years ago. I think maturity has helped us in that regard."
READ NEXT TOP STORY: Emerging solar plants scorch birds in mid-air