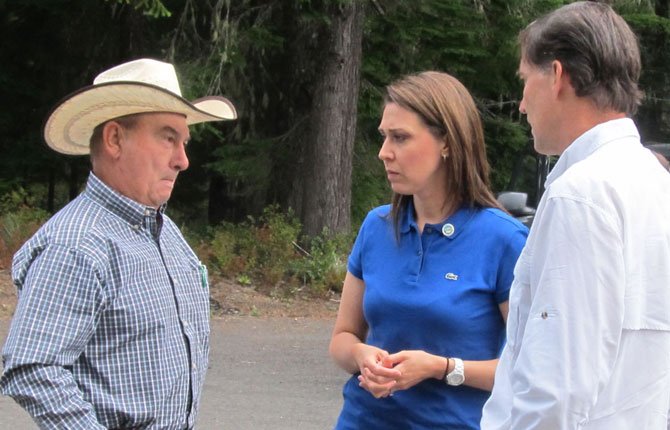 When Congresswoman Jaimie Herrera Beutler asks, agency heads pay attention. That's due in part, of course, to her seat as a sophomore representative on the powerful House Appropriations Committee. But it also helps that she is widely regarded in Congress as a practical problem solver.
So when she asked Dan Ashe, head of the U.S. Fish and Wildlife Service, to come visit economically depressed Skamania County and tour the Gifford Pinchot National Forest that takes more than 80 percent of the county land off the tax rolls, he readily agreed.
Beutler and Ashe headed a roundtable Aug. 15 at the Stevenson Library that also included Robyn Thorson, regional director for the U.S. Fish and Wildlife Service, Jim Peña, regional forester for the US Forest Service, Janine Clayton, Forest Supervisor for the Gifford Pinchot National Forest and a variety of local county, school district, fire and Forest Service officials, as well as other forest and wildlife stakeholders and experts.
"I would really like this conversation to go even beyond harvest and the numbers to talk about specific impacts," Herrera Beutler said in an opening statement. "I want to talk about whether students have schools to attend, whether communities can survive the status quo even a few more years, the existence of the spotted owl and other species, and the growing threat of wildfire."
Klickitat County Commissioner Jim Sizemore joined commissioners from Skamania, Clark, Lewis and Cowlitz counties at the table. The common topic was the 1994 Northwest Forest Plan, which had few fans in the room. The plan locked up vast swaths of the 1.3 million-acre Gifford Pinchot for Northern spotted owl habitat protection, and significantly decreased the amount of timber that could be harvested on the remainder. Timber sales tumbled from 550 million board-feet in 1998 to 33 million board-feet in 2012, with devastating economic consequences, particularly in Skamania County.
Skamania County Commissioner Bob Anderson described some of the impacts.
"Approximately 60 percent of the county's workforce leaves the county every day to go to work," he said. "When I was a child here, there were only two people who went to work in Portland every day. That's because there were 1,800 jobs here in the timber industry."
Sizemore sympathized.
"I feel for everybody that has experienced the blood and the pain and the agony of the last 25 years," he said.
Sizemore said he had attended a meeting last summer convened by Lewis County Commissioner Lee Grose and learned that the Forest Service had authorized a harvest of 60-plus million board feet from of the Gifford Pinchot in 2012 and that Janine Clayton, supervisor of the Gifford Pinchot had been able to do better than previous managers, but still was only able to see that 32 million board feet were harvested. "The reason that she did not get more was she couldn't afford it," Sizemore said. He cited SDS President and CEO Jason Spadero, who was present, saying he knew the SDS logs in order to have a net profit at the end of the operation.
"I asked if Janine were any different, and found out — I assume it was policy within the department — that the revenue that Janine generated was put into the general fund and was not used to compensate for the cost of the sale," Sizemore said. "So it would seem to me, the least that the department could do would be to look at the policy. If you're allowed to take 60 plus million, then take it."
Rep. Hererra Beutler joined in praise of Clayton, adding that she was working on some legislative proposals, even if only as a demonstration project, to allow some of the revenue generated from a sale to cover costs of operating the sale.
Asked what he would be taking back to Washington from the visit, Ashe said, "I'm going back with the idea that there are a lot of good folks up here. And for me, when you get people of good intention together, you can find solutions to problems."
Rep. Jamie Herrera Beutler, who brought U.S. Forest Service Chief Tom Tidwell to the Gifford Pinchot last year on a similar visit, plans to keep the motivation for top officials at a very high level.
READ NEXT TOP STORY: Another hostage at risk in Iraq