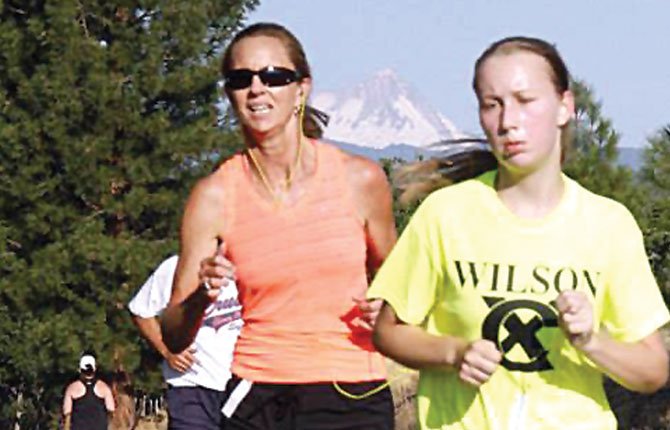 When it comes to the Wasco County fair run/walk, nothing present a more challenging set of circumstances for even the best runners from across the state.
Such was the case Saturday when 94 running enthusiasts took to task in the annual 3k, 5k, 10k fundraiser event in Tygh Valley by the fairgrounds.
Although the 3k and 10k fields were smaller, 15 total, the times put up by these harriers were up to the standout markers of some of the summer athletes.
Chena Kee and Rebecca Carpenter fought toe-to-toe for the duration of their 3k tussle, with each matching strides for the final stretch.
When it came to the final rally, the duo timed out in a first-place deadlock with times of 22 minutes and 25 seconds.
Wyatt Mars added a time of 28:48, Scott Beck garnered fourth place and Gary Carpenter rattled off a 29:52 to take hold of a top-5 standing.
Grace Willis held down a consistent run of 33:35, Linda Trisent had a 33:42 and ended up in a tie with Grace Neal, whose 33:42 rounded out the 3k group.
Of the seven 10k participants, just Heidi Hagman, Leanne Neal and Bryan Mears amassed final markers of less than an hour.
Hagman proved to be a dominant figure in her run, as she scorched the field with an impressive time of 44:01 to take hold of first-place recognition.
Leanne Neal battled hard and still slugged out a 46:39 to take second place.
Mears was up to task in his long distance attempt with a 52:39 for third place.
Just breaking the hour mark was Kirsten Hisatake, who crossed the final tape in 1:03.52 for fourth place in the order of finish.
Karen Feil added a 1:20.21, Pamela Jensen kicked it into high gear with her 1:20.31, and Erin Rue handled the long distance with a time of 1:24.59 to cap a top-7 output.
Proceeds from the race benefit the physical education program at South Wasco County High School.
Balancing budgets and finding funds to spread across all of the sports is a tough task no matter what the program.
The more than $1,700 raised allows the Redside athletes to afford upgrades in equipment, uniforms and other expenses that may arise through the 2014-2015 sports season.
Of the nearly 100 competitors penciled for the three events, the 3k run had high school athletes From Wilson High School, The Dalles and others from the western part of the state along with adults and other high-level standouts.
Jack Howers scored a 17:18 to run past the field of men for top honors, besting Chase Howers by a minute on the time clock.
Chase Howers still kept his timing to less than 19 minutes with a showing of 18:18 on the watch.
Caleb Seely clocked in at 19:29 to score third place, and former The Dalles Wahtonka cross country star, Ben Iremonger, churned out a 19:37 to end up fourth.
Aiden Nelson was one tick of the clock behind in 19:38 for fifth place in the field of more than 40 men.
Rounding out the top-7 were Alex Slenning, who hit at a pace of 19:40, and Nick Slenning notching a 25:05.
While the men continue to hike up the performances on the tough course under the hot sun, the women were made a meet of it in their own right with eight mixing it up for less than 24 minutes on the toteboards.
Sydney Eunhiegen could not be stopped in the 5k women's side, where she picked apart some of contemporaries in 19:38 for a top trophy.
Dana Nathanson was no slouch in her own right and she showed she belongs in the standout discussion with her 22:37 telling the second-place story.
Iris Emmerick timed out at 23:36 to secure third-place and The Dalles Wahtonka athlete, Avery Cardosi, was par for the course with her 23:40, one of her better performances of the running season.
Adahra Poasa rounded out the top-5 women with a 23:53 and another fellow Riverhawk athlete, Molly Nelson, was a few clicks back in 23:53.
Now that this race is under their proverbial belts, a good batch of this lot will tighten the laces once again for a new challenge at Sorosis Park, the inaugural Riverhawk Run.
This race takes place at 9 a.m. Saturday, Aug. 30 and spots are filling up fast. Athletes are encouraged to show up by 8 a.m. for registration paperwork completion.
Cost to register for this run start at $20 with a shirt and $10 without for any harriers who pre-register before the Aug. 27 deadline.
On the day of the race, costs move to $25 with a shirt and $15 without.
Awards are offered to the top-3 runners in each age division, all runs.
This event is also a fundraiser and all proceeds raised go to The Dalles cross country program.
For additional news and information, call 541-1119 or email race commissioner and The Dalles cross country head coach Bob Thouvenel at rthouvenel44@charter.net.
READ NEXT TOP STORY: Congresswoman's round table focuses on forest issues